The maintenance and logistics needs reportedly make the US armor a dubious asset for Kiev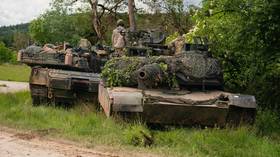 FILE PHOTO. © Global Look Press / dpa / Nicolas Armer
The M1 Abrams tanks that Washington recently promised to Ukraine might end up being a liability rather than a boost to Kiev's war effort, the Financial Times reported on Sunday. Such a view is explained by the armor's overcomplicated logistics and maintenance needs.
The 70-tonne tank has a gas turbine engine, which allows it greater acceleration than a diesel engine but requires meticulous maintenance and consumes larger amounts of fuel, the FT explained.
The paper cited former US Army platoon commander John Nagl, who said his soldiers "spent a whole lot of time literally banging our air filters" during the 1991 Gulf War and the 2003 US invasion of Iraq amid "big concerns" about the tank engine "ingesting sand and not working."
Maintaining the combat readiness of the Abrams tanks would require "completely different types of machinery" relative to other Western-designed tanks promised to Kiev, as well as crews trained for special gadgets, the FT highlighted. The mechanics crews for the tanks would also take longer to train, the paper reported.
The tanks will need a steady supply of spare parts and have their "500-gallon tank refilled every day" with jet fuel given that it cannot run on diesel, it added.
White House confronted over tanks for Ukraine
The M1 Abrams "is a terrific tank, but it is an American tank and the American way of war demands all the logistics in the world," Nagl told FT. The paper then noted that the logistics and supply network for the Abrams tanks would remain in the US.
The logistical shortcomings might eventually turn the Abrams into something of a liability for Ukrainian troops as they could easily fall prey to Russian attacks, Josh Kirshner, a managing director at Beacon Global Strategies, a strategic advisory firm, warned.
Kiev's forces "don't want the Cadillac of defense items, they just need 'good enough' gear," he argued.
Back in December 2022, the Pentagon also argued that M1 Abrams tanks were just too difficult to operate as it refused to supply them to Ukraine at that time. Washington then changed its stance in January, promising 31 Abrams tanks to Kiev. Yet, the hardware is expected to arrive in Ukraine no sooner than in several months.
Russia has repeatedly warned the West against supporting Kiev with weapons, arguing that doing so will only prolong the conflict. Commenting on the deliveries of modern tanks to Ukraine, Kremlin spokesman Dmitry Peskov noted that they will "burn like the rest" of the Western weapons.