A Russian battalion will pay $170,000 for a Leopard, Abrams, or Challenger captured in working condition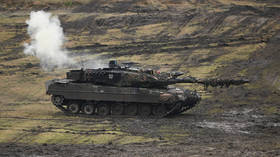 A Leopard 2 tank is seen at the training ground in Augustdorf, western Germany on February 1, 2023. © INA FASSBENDER / AFP
A Russian battalion offered a bounty on Friday for every operational Western-made tank seized by Moscow's forces.
The announcement was made by the Pavel Sudoplatov Battalion, an international volunteer unit created in Russia's Zaporozhye Region in September 2022, and named after a famed Soviet-era spymaster known for his operations against Ukrainian nationalists.
Writing on Telegram, the battalion said it "officially declares that it will pay 12 million rubles ($170,000) for each serviceable captured Leopard, Abrams, or Challenger tank."
The announcement appears to be a part of a trend in which Russian business entities and officials have placed bounties on Western equipment captured or destroyed in Ukraine.
Kremlin supports cash rewards for burning NATO tanks
Late last month, Aleksandr Osipov, the governor of Russia's eastern Zabaikalsky Region, signed an order offering local soldiers fighting in Ukraine 3 million rubles ($42,000) for an operational Leopard 2 tank, or 1 million rubles ($14,000) for destroying one.
The governor promised 1.5 million rubles ($21,000) for the capture of, and 500,000 rubles ($7,000) for the destruction of, American M1 Abrams tanks
This and similar initiatives have received the thumbs-up from the Kremlin. Press Secretary Dmitry Peskov say they serve as a testament to the "unity and desire of all to directly or indirectly contribute" to the goals of Russia's military operation in Ukraine.
In January, several Western nations made the unprecedented decision to supply Ukraine with modern main battle tanks. Germany announced that it would send 14 Leopard 2 tanks to Kiev and allow other European countries to export their own stocks to Ukraine, and the US pledged to deliver 31 Abrams tanks. The UK also stepped in, announcing it would support Ukraine with 14 Challenger 2 tanks.
Russia has repeatedly warned the West against supporting Ukraine with weapons, arguing that doing so will only prolong the conflict. Commenting on the deliveries of modern tanks to Kiev, Peskov noted that they will "burn like the rest" of the Western weapons.