President Zelensky's office has announced that Ukrainian troops will not leave Artyomovsk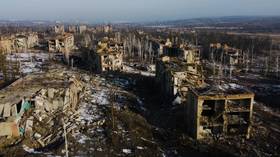 Artemyovsk, also known as Bakhmut, Donetsk People's Republic, Russia. © Sputnik
Kiev has decided to keep holding and defending the strategic Donbass city of Artyomovsk, known in Ukraine as Bakhmut, President Vladimir Zelensky's office announced on Tuesday. The area has seen some of the most brutal fighting amid Russia's year-long military campaign in Ukraine.
President Zelensky met with his top military officials to hear the reports of the commander-in-chief of the Ukrainian Armed Forces, as well as battlefield commanders, who explained the situation on the front line.
"After considering the progress of the defensive operation in the Bakhmut direction, all members of the Staff expressed a common position regarding the further holding and defense of the city of Bakhmut," a statement on the Presidential Office website read.
Kiev officials also discussed the provision of weapons and ammunition to the front lines, as well as the rates and quantities of Western arms shipments, and their distribution to military groups, according to the statement.
The fight for Artyomovsk – a major foothold and logistics hub for Kiev's forces in the Donetsk People's Republic – has been raging since August. Russian forces have captured several villages in the region, and recently almost surrounded the city, according to Wagner Private Military Company chief Evgeny Prigozhin.
While the situation on the battlefield is constantly changing, last week Prigozhin claimed that Russian forces were also in control of the eastern half of the city.
 Zelensky explains why he's so determined to hold key Donbass city
Although no official casualty numbers have yet been released, Ukraine is believed to have suffered significant losses in the defense of Artyomovsk. According to reports from the Washington Post and other media outlets, the US has been urging Kiev not to "fixate" on defending the city "at all costs" and has suggested relinquishing it in order to look for opportunities to attack elsewhere.
Nevertheless, Zelensky has insisted on holding Artyomovsk. In an interview with CNN last week, he explained that the battle for the city is "tactical" for Ukraine and that if Russia were to take control of the stronghold, it would have an "open road" to more Kiev-held parts of Donbass.
Zelensky has also suggested that if Artyomovsk were to fall to Russian forces, it would help "mobilize their society" and bolster domestic support for the Russian army.
US Secretary of Defense Lloyd Austin has claimed that Artyomovsk's importance is more symbolic than operational. However, Russian Defense Minister Sergey Shoigu has confirmed that taking the city would allow for "further offensive actions" against the Ukrainian forces.