Both Aleksey Reznikov and Rustem Umerov have been hit by scandals, but the latter is perhaps more useful in other respects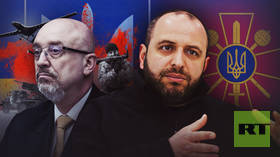 Earlier this week, Ukrainian President Vladimir Zelensky dismissed his Defense Minister Aleksey Reznikov, who had held the position since November 2021. Since the beginning of the year, media outlets around the world have discussed Reznikov's potential departure due to his alleged involvement in major corruption scandals. However, he continued to hold onto his position through the failed summer counteroffensive.
Rustem Umerov, an Uzbekistan-born former MP from the controversial Golos party, will be appointed as the new defense minister, despite allegedly being involved in a sex scandal and, according to rumors circulating in the Ukrainian media, potentially facing a criminal case linked to his previous position as head of the State Property Fund – a role he took up after leaving parliament last year.
Ukrainian MPs approve new defense minister
Russian experts believe that neither Ukraine's corruption woes nor the problems facing Kiev's forces on the front line will change significantly as a result of Umerov's appointment. Instead, this game of musical chairs is likely linked to the country's upcoming presidential elections – as a Crimean Tatar, Umerov symbolizes Zelensky's resolution to continue to fight for control over the Russian peninsula.
Corruption Golgotha
"Aleksey Reznikov went through more than 550 days of full-scale war. I believe the ministry now needs new approaches and other formats of interaction with both the military and society as a whole," Zelensky said as he explained the decision to appoint a new defense minister on Monday.
Reznikov himself does not appear to be upset by the decision. A lawyer by education and a former deputy prime minister, he repeatedly stated that he did not enjoy his role at the Defense Ministry. In an interview with RBK Ukraine at the end of August, Reznikov admitted that he would agree to leave the post if requested by Zelensky, claiming that he considered the position to be 'a Golgotha'. "He knows exactly what and how much I have done, and he knows that if he assigns another important project, I will gladly accept it," Reznikov said. Moreover, he said he had not initially sought the position, and had even attempted to dissuade Zelensky from appointing him.
In an interview with the Spanish newspaper La Razon, Reznikov even said that his wife had cried upon learning of his appointment as defense chief. Reznikov himself claims he was surprised by the president's decision, and put it down to the fact that they had spent significant time together when Reznikov served as deputy prime minister. Zelensky also knew the minister from the latter's time as a practicing lawyer. Reznikov insisted that he had planned to resign immediately after the end of active hostilities with Russia, although things have evidently progressed much more quickly than that.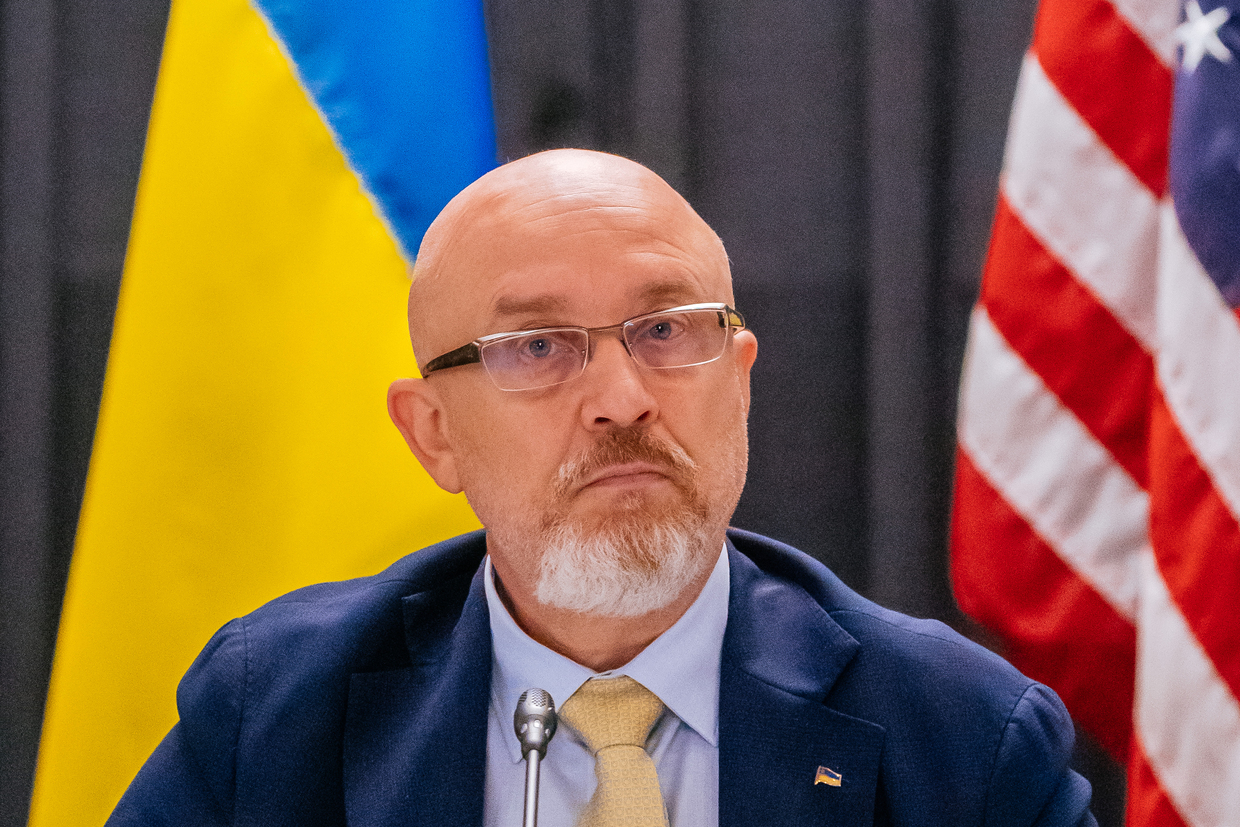 FILE PHOTO: Aleksey Reznikov in 2022. © Thomas Niedermueller / Getty Images
It is unclear whether Reznikov was being sincere, and it's notable that when his resignation was actively being discussed in the media at the turn of the year, he did not make any similar statements about a potential departure. In February, it was the parliamentary head of the ruling 'Servant of the People' party, David Arakhamia, who began discussing Reznikov's possible resignation. There was little doubt that this would eventually happen, considering that Arakhamia is known as the 'herald' of personnel changes among top Ukrainian officials. Indeed, it was Arakhamia who at the beginning of 2023 announced a wave of resignations and raids on the Ukrainian elite, which took place soon after.
All this happened amid a corruption scandal related to food supply purchases for the Ukrainian military, which is the responsibility of the Defense Ministry. As it turned out, they were being purchased at inflated prices. In January, the Kiev publication 'Zerkalo Nedeli' published copies of agreements on the provision of food supplies for military units in six regions of the country. According to the documents, the Defense Ministry agreed to purchase the products at prices two to three times higher than in the capital's retail stores.
However, Reznikov's resignation did not follow, and by reshuffling Defense Ministry personnel, he was able to retain his post.
Ilya Kramnik: Here's why NATO isn't able to help Ukraine win
Why now?
The fact that Reznikov has now been dismissed may be linked to Zelensky's election campaign, says Bogdan Bezpalko, a member of the Russian Presidential Council for Interethnic Relations.
"It will symbolize the fight against corruption – something Reznikov was known for. But he won't be punished, he will be offered some post," he told RT.
Reports have emerged regarding Reznikov's potential appointment as the Ukrainian ambassador to the UK. According to Bezpalko, this would be somewhat ironic considering that the corruption scandals linked to the former defense minister are a topic of discussion in London.
Former Verkhovna Rada deputy Vladimir Oleinik believes that Reznikov's resignation may also be an attempt to divert attention from the corruption scandals surrounding US President Joe Biden and his family.
"Everything that happens in Ukraine is subject to the internal agenda in the US, where a corruption scandal is breaking out around the Biden family. Americans want to shift the focus and demonstrate that they will now punish those who engage in corruption in Ukraine," he told RT.
It is noteworthy that Reznikov's resignation came alongside other new appointments in Ukraine's law enforcement agencies. In early September, the head of the Counterintelligence Department of the Security Service of Ukraine (SBU), Aleksandr Poklad, was dismissed from his post, and there were also personnel changes in regional SBU departments.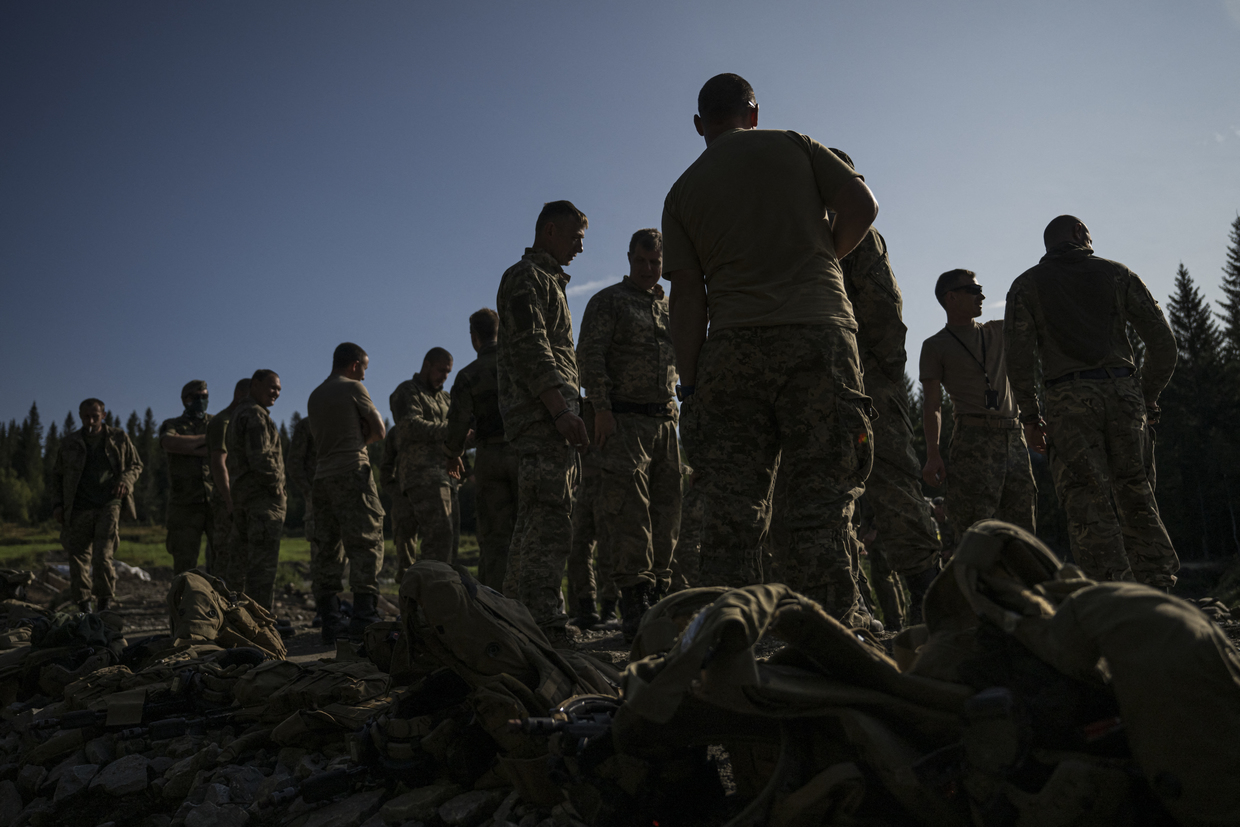 FILE PHOTO: Ukrainian soldiers. © Jonathan NACKSTRAND / AFP
Political analyst Andrey Suzdaltsev believes that these developments are linked to the failures of Ukraine's summer counteroffensive, since time is running out and Kiev has yet to achieve any notable results.
"They found the 'safest' people to lay off in order to continue fighting. But I believe that in the fall they will appoint new generals. A purge is going on now. On the one hand, it's a purge of the apparatus, on the other hand, a purge among the oligarchs," Suzdaltsev told RT, recalling the arrest of Igor Kolomoisky, who was charged with the illegal transfer of $13.5 million abroad.
According to Suzdaltsev, Reznikov fell out of favor with Zelensky, while Ukraine's US sponsors were also strongly dissatisfied with him.
"Besides, he is just a talking head, one of the participants in the negotiations with Russia in February-March of last year. In fact, he has no special influence over the army. [Officials in] the Ministry of Defense are like storekeepers. He could not help the army in any way," Suzdaltsev added.
Zelensky's 'cannon fodder': The strange lives and pointless deaths of foreign mercenaries fighting in Ukraine
The deputy head of the Institute of CIS Countries, Vladimir Zharikhin, holds a similar point of view.
"Of course, they had to find a scapegoat because of the failed counteroffensive. Instead of the counteroffensive against Russia, which fell through, they decided to launch an attack against the oligarchs on matters of corruption. The dismissed minister possessed all the qualities necessary to demonstrate the fight against corruption to the people and to Washington. I don't think things will end with [Reznikov's] resignation. There may be other punishments for corruption as well," he told RT.
New minister, new scandals
Ukraine's new defense minister has attracted just as much scandal as his predecessor – and perhaps even more.
On Monday, Ukrainski Novini reported that police had opened a criminal case against senior officials at the State Property Fund of Ukraine. At the time the case was initiated, the fund was headed by Umerov. The investigation was launched by Prime Minister Denis Shmigal due to allegations of the illegal dismissal of independent members of the Supervisory Board.
It is not known whether Umerov himself is a suspect, or if the matter concerns only his deputies. But if he were to be charged, Ukraine would have a new defense minister with a criminal case hanging over him.
Moreover, following the news of his impending appointment, Umerov emerged as the central figure in another scandal, this time featuring a leaked video in which a man resembling the new defense minister is seen pleasuring himself with sex toys. Ruslan Kotsaba, a journalist who has left Ukraine, claimed that the footage was made some time ago, but that someone had "kept" it until now.
"These videos are several years old. They were waiting for their time to come," Kotsaba wrote in his blog.
However, according to experts, these scandals will not influence Zelensky's decision to appoint Umerov, whose ethnic origin makes him a symbolic figure for Ukraine.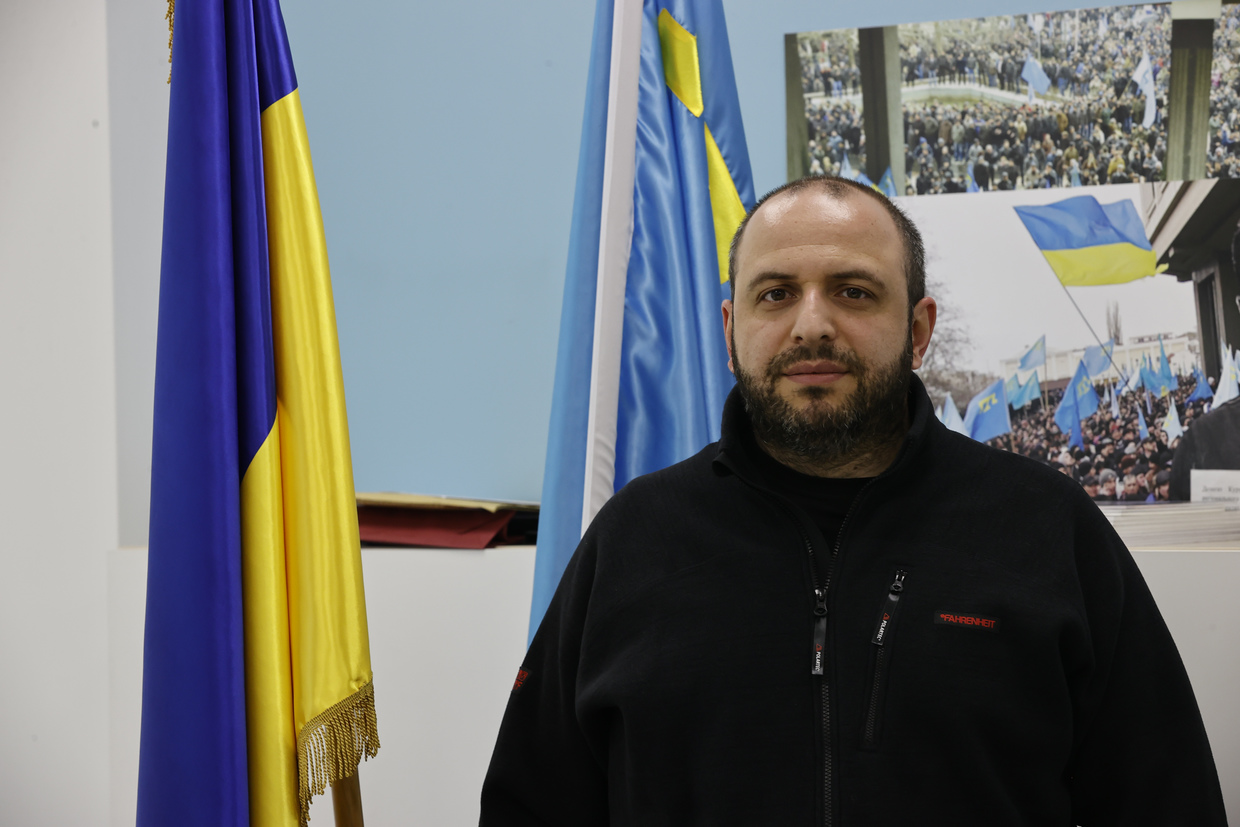 FILE PHOTO: Rustem Umerov in 2022. © Dogukan Keskinkilic / Anadolu Agency via Getty Images
A convenient figure
Umerov is a representative of the Crimean Tatar ethnic group and a Muslim. He was born in 1982 in Samarkand, but grew up in and built a career in Ukraine.
In 2007, he was among the organizers of the Crimean Tatar Community, and in 2011-2013 was co-founder and president of the Crimean Development Fund. Moreover, in 2007 and 2012, Umerov was a delegate of the Qurultay of the Crimean Tatar People. In the Rada, he served as secretary of the Parliamentary Committee on Human Rights and the Reintegration of Uncontrolled Territories, and as co-chairman of the Crimea Platform association. He headed the temporary special commission on monitoring the receipt and use of international logistical assistance. He was also the deputy head of the Permanent Delegation of the Parliamentary Assembly of the Council of Europe.
From February to April 2022, he was a member of Kiev's delegation during the failed Russian-Ukrainian peace negotiations.
Ukrainian parliament sacks defense minister
Bezpalko believes that Umerov was selected for the post of defense minister based on the relevance of his background and his loyalty.
"He is a Crimean Tatar, which symbolizes Ukraine's claims to Crimea. He collaborated with the Mejlis of the Crimean Tatar People, which is banned in Russia. He was literally grown out of a test tube of pro-Western and anti-Russian ideology – this is his main and probably only important quality. He is very loyal and very manageable – an ideal candidate for making any decisions in the current situation. Though by and large, in Ukraine politicians have little say in anything," the expert said.
Bezpalko believes that for Russia, nothing will change with the appointment of a new Ukrainian defense minister, since little depends on Reznikov or Umerov and "real decisions are made by other people in other countries."
"These are merely people who carry out the orders and who have neither military experience nor a military education,"he said.
However, whether this replacement will influence the situation at the front is debatable.
"Reznikov is a unique figure in terms of disorganization. Corruption will not go away, as it feeds an incredible number of people and various companies. However, Umerov will bring some order – which means that corruption will be organized in a more 'appropriate' way, and this will slightly ease the situation at the front for Ukraine, but only in a small way," Suzdaltsev believes.
The corruption schemes themselves will not change much, says Oleinik. In his opinion, Kiev wants to create an illusion that the new minister will not engage in graft, but in reality the existing schemes will continue to operate, and Umerov will only carry out Washington's orders.
"There's no need to go too deep into exploring the possibility of someone in Ukraine making independent decisions. He who pays the piper calls the tune. And the Americans are the ones who pay," he concluded.
By Christina Sizova, a Moscow-based reporter focused on politics, sociology and international relations