Kiev's allies have not dug deep enough into their weapons stockpiles, according to the Ukrainian leader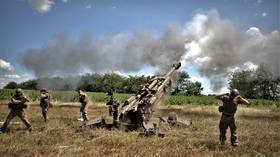 © Getty Images / Glan Marco Benedetto
Ukrainian President Vladimir Zelensky attributed the delay and lackluster results of his military's much-hyped counteroffensive to insufficient weapons and training from Kiev's Western allies in an interview with CNN's Fareed Zakaria on Sunday.
"We did have plans to start [the counteroffensive] in spring. But we didn't, because, frankly, we had not enough munitions and armaments and not enough brigades properly trained in these weapons," Zelensky explained, adding that holding the training outside Ukraine further contributed to the delays.
It was this delay, he said, that allowed Russia to "mine all our lands and build several lines of defense," forcing upon the Ukrainian military "a slower pace of our counteroffensive actions."
Ukraine losing 'significant' forces – White House
"We don't want to lose our people, our personnel," Zelensky said, adding, "our servicemen didn't want to lose equipment because of that."
Zelensky gave similar excuses at the Aspen Security Forum on Friday, explaining that Ukraine had wanted to launch the counteroffensive in the spring but decided against it due to a lack of ammunition and training. However, he implied that victory was imminent as soon as the military finished removing the mines that Western stinginess had allowed Russia the time to plant.
While Pentagon officials have stressed that it is too early to write the counteroffensive off as a "failure," the US has refused to supply Ukraine with long-range ATACMS or F-16s, explaining with regard to the latter that there simply is no time or money to train the Ukrainians to fly and maintain the aircraft in time to make a difference in the conflict.
Even the Western media has acknowledged the counteroffensive's lackluster performance. The New York Times reported earlier this month that Ukraine's military had lost 20% of its weapons in the first two weeks of the operation alone, losses Zelensky also blamed on the insufficient generosity of his Western allies. The Financial Times and Washington Post have both reported this month that the West and US, respectively, are concerned about Ukraine's lack of progress in the counteroffensive they had promised would deal a decisive blow to Moscow.
While NATO has pledged to prop up Ukraine's military for "as long as it takes" to defeat Russia, the alliance stopped short of inviting Kiev to join during its summit in Vilnius earlier this month. This incensed Zelensky, who called the bloc's behavior "unprecedented and absurd."
Ukraine has received a massive amount of military aid from NATO members in the last 18 months, with $46.6 billion coming from the US alone. However, Kiev's allies are running critically low on ammunition, while the publics in Western countries are questioning the wisdom of what is increasingly seen as an open-ended proxy war with a nuclear power.