Multiple rounds of arms shipments to Kiev have already dwindled US arsenals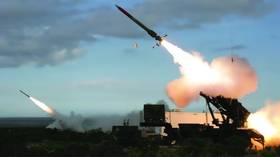 FILE PHOTO. © US ARMY / Jason Cutshaw
The US will not supply Ukraine with its Army Tactical Missile System (ATACMS) due to concerns it will not have enough for itself, officials told Politico. Kiev continues to demand longer range missiles and other heavy weapons, despite $30 billion in military aid already authorized by the White House.
Ukrainian officials were informed that Washington has no ATACMS missiles to offer during a recent meeting in the US capital, with the Pentagon concluding that transfers would "dwindle America's stockpiles and harm the US military's readiness," the outlet reported on Monday.
"With any package, we always consider our readiness and our own stocks while providing Ukraine what it needs on the battlefield. There are other ways of providing Ukraine with the capabilities it needs to strike the targets," a senior military official said on condition of anonymity.
While it is unclear how many ATACMS remain in US stocks, weapons manufacturer Lockheed Martin has produced only about 4,000 units of various makes over the last 20 years, with around 600 used up by US forces during the Persian Gulf War and the Iraq War. A number of those missiles have also been sold to allies, including Bahrain, Greece, Poland, Qatar, Romania, South Korea, and Turkey.
READ MORE: NATO sounds alarm over Ukraine's ammunition consumption
Short of obtaining the weapon directly from the US, Kiev is considering whether to ask one of those allied countries to provide the ATACMS instead, a move that would have to be approved by Washington.
Arms transfers to Ukraine have stressed US stocks over the last year, with shortages in Javelin and Stinger missiles reported as early as last March, just weeks after the conflict with Russia kicked off. As of February 3, Washington has sent at least 1,600 Stinger systems and more than 8,000 Javelins, in addition to a massive quantity of other arms, including drones, mortars, howitzers, armored combat vehicles, and dozens of HIMARS multi-launch rocket systems.
In addition to concerns about shrinking arms inventories, US officials also fear that Ukrainian forces would use the ATACMS to "attack deep inside Russian territory" given their range of 190 miles, according to Politico. Though the White House has approved increasingly heavy weapons for Kiev – including the M1 Abrams main battle tank – it believes strikes on Russian soil mean crossing a "red line" with the Kremlin.
READ MORE: Toll of Ukraine conflict on NATO assessed – Reuters
The NATO bloc has urged member states to "ramp up production" of weapons and ammunition to keep up with Kiev's needs, with the alliance's head, Jens Stoltenberg, warning on Monday that the Ukrainian military is consuming an "enormous amount" of materiel. A recent NATO assessment obtained by Reuters found that arsenals across the alliance have been significantly depleted thanks to the conflict, with one official telling the outlet that "If Europe were to fight Russia, some countries would run out of ammunition in days."
Moscow has repeatedly urged against foreign arms deliveries to Ukraine, saying they would only prolong the fighting without changing the outcome of the conflict. The Kremlin has also warned that the aid creates a greater risk of escalation, especially if Western weapons are used to strike Russian cities or to try to seize Russian territory.