Officials have ordered Michigan State University students and staff to shelter in place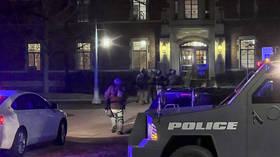 Armed police officers with weapons drawn rush into Phillips Hall on the campus of Michigan State University in East Lansing as authorities respond to reports of shootings, February 13, 2023 © Jakkar Aimery / Detroit News via AP
Michigan State University has been placed on lockdown after shots were fired at multiple locations on campus. Police said the gunman, who killed three people and injured at least five others, died from an apparent self-inflicted wound.
Campus police reported shots fired at MSU's Berkey Hall and IM East building on Monday night, noting that law enforcement is "active on the scene." The authorities initially said there were "multiple injuries" and that there appeared to be only one suspect.
Police later confirmed that three people were killed during the shooting, and five were rushed to Sparrow Hospital, some with life-threatening injuries. Interim deputy chief of the campus police Chris Rozman described the suspect as a "black male, shorter in statue, wearing red shoes, a jean jacket and a ball cap."
"Community members on and off campus should continue to shelter in place," the police said. With law enforcement authorities still working at the scene around 10:20pm, the school announced that all campus activities would be canceled for the next 48 hours.
In a separate notice during the incident, campus law enforcement urged students and staff to "run," "hide," or "fight" depending on their circumstances. "Run means evacuate away from danger if you can do so safely, Hide means to secure-in-place, and Fight means protect yourself if no other option," it said.
Michigan Governor Gretchen Whitmer later tweeted she was briefed on the incident, saying "Let's wrap our arms around the Spartan community tonight."
Later, police said that after a three-hour manhunt, the corpse of the suspect was found off campus with an apparent self-inflicted wound. They added that it was not immediately clear whether the gunman had any affiliation with the school.