More than 10 million volumes have been pulled from the shelves, a senior Rada MP has said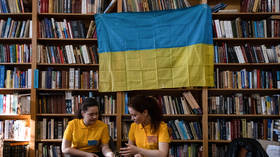 FILE PHOTO: A library in Lviv, Ukraine, 2022. © Alex Chan Tsz Yuk / SOPA / LightRocket / Getty Images
Ukraine has removed millions of copies of Russian-language books from its public libraries, Yevgeniya Kravchuk, a senior member of the country's parliament, the Verkhovna Rada, said on Monday.
She stated that the Culture Ministry had provided recommendations on what titles should be taken off the shelves.
This move was provoked by an initiative declared by the Ukrainian government to "overcome the consequences of Russification," which in practice means purging schools of certain literature, renaming streets, and dismantling monuments to Russian historical figures.
According to Kravchuk, the deputy chair of the Committee on Humanitarian and Information Policy, 19 million books had been removed as of November, including 11 million in Russian.
"Some Ukrainian-language books from the Soviet times are being removed as well," Kravchuk said. The MP noted that there was not enough literature available in the Ukrainian language.
"The ratio of books in the Russian and Ukrainian languages in our libraries is very disheartening. We are talking about the need to update the stocks more quickly and procure books in the Ukrainian language." 
 Kiev's ombudsman calls for more curbs on Russian language
Ukraine has a sizable Russian-speaking minority, and many Ukrainian speakers are fluent in Russian.
In June, the Ukrainian Education Ministry proposed removing more than 40 books by Russian and Soviet authors from the curriculum. The list included the works of such renowned classical writers as Leo Tolstoy, Fyodor Dostoevsky, and Alexander Pushkin, as well as Boris Pasternak and Mikhail Sholokhov, both of whom won the Nobel Prize for literature. Ukrainian Culture Minister Aleksander Tkachenko urged the world in December to "boycott" Russian culture, arguing that Moscow has been using it for propaganda.
Since 2014, Kiev has adopted several laws aimed at restricting the use of the Russian language in the public sphere. Moscow, meanwhile, has described these moves as discriminatory. Last year, Russian Foreign Minister Sergey Lavrov condemned "Kiev's policy of aggressive de-Russification and forced assimilation."
Moscow launched its military operation in Ukraine nearly a year ago, citing the need to protect the people of Donbass, a predominately Russian-speaking region, and Kiev's failure to implement the Minsk 2014-2015 peace accords.