Evading mobilization during "wartime" is punishable by up to five years behind bars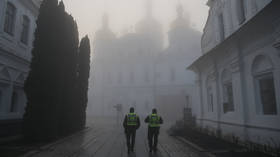 FILE PHOTO. Ukrainian police officers near the Kiev Pechersk Lavra. © Getty Images / NurPhoto / Maxym Marusenko
Ukraine's judiciary has begun jailing draft dodgers, MP Alexander Dubinsky said on Monday, citing court papers.
The politician shared a link to a ruling issued by a court in Ukraine's northeastern region of Sumy, which sentenced an unidentified person to three years behind bars for failing to respond to the ongoing military call-up amid the conflict with Russia. The MP said the case was particularly concerning given the court's approach to the proceedings and the defendant's testimony about his medical examination.
The defendant, who pleaded not guilty, claimed that the examination by the military was a mere formality, and that the doctors had pronounced him healthy without actually examining him. The would-be recruit, however, insisted he was not fit for service, citing acute periarthritis in his knee.
Nevertheless, the court found the man guilty of "evading mobilization during wartime" and sentenced him to three years behind bars. Draft evasion under Ukrainian law carries a maximum penalty of five years in jail, as well as massive fines.
Since the beginning of the conflict between Russia and Ukraine, nearly 2,500 criminal cases over draft dodging have been opened, according to local media reports. While some 1,300 of the cases have been dismissed, more than 400 indictments have already made it to the courts.
READ MORE: EU state slams Kiev over 'brutal' military draft from ethnic minority
In recent weeks, Ukrainian authorities have intensified their forced mobilization efforts in an apparent attempt to compensate for heavy frontline losses. Numerous videos circulating online show Ukrainian military officials chasing military-age citizens in the streets and even forcibly detaining them at gunpoint. In some locations military officials have reportedly resorted to various unexpected measures, such as hiding in ambulances to surprise unsuspecting 'recruits' or handing out draft summons at bomb shelters during air-raid alarms.
Russia sent troops into Ukraine on February 24, 2022, citing Kiev's failure to implement the Minsk agreements, which were designed to give Donetsk and Lugansk special status within the Ukrainian state. The protocols, brokered by Germany and France, were first signed in 2014. Former Ukrainian President Pyotr Poroshenko has since admitted that Kiev's main goal was to use the agreement to buy time and "create powerful armed forces."
The Kremlin recognized the Donbass republics as independent states and demanded that Ukraine officially declare itself a neutral country that will never join any Western military alliance. Kiev insists the Russian offensive was completely unprovoked.