The heavy armor has stopped an attack by two tanks and several military vehicles, Russian media have said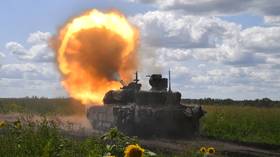 FILE PHOTO: A Russian T-90M main battle tank. © Sputnik
A single Russian tank supported by artillery has stopped a Ukrainian attack that involved around a dozen armored equipment pieces, Russian media reported on Saturday. A video of the battle first appeared on some Telegram channels and was then posted by RIA Novosti.
The fighting took place in Zaporozhye Region, where the Ukrainian troops sought to assault Russian defensive positions, the news agency reported. Russia's aerial reconnaissance detected a Ukrainian column moving towards the frontline. "We had an armor piece in this area," a Russian unit commander told RIA Novosti, adding that the tank's crew was ordered to intercept the enemy and "engaged in a battle."
Footage purportedly showing the battle showed the Russian tank attacking the Ukrainian column moving along a road while using a tree belt area for cover. The tank's crew can be seen actively maneuvering while constantly firing on the enemy. Retaliatory fire returned by the Ukrainian forces does not appear to have caused any significant damage to the Russian armor.
Russian tank destroys Ukrainian armored column.
The tank managed to destroy a total of seven Ukrainian equipment pieces on its own, the unit commander said, adding that some other Ukrainian armor pieces were also hit by Russian anti-tank missile crews and artillery. The tank did not suffer any serious damage during the encounter, he added.
Almost 20% of NATO supplies to Ukraine already lost – FT
According to the Rossiyskaya Gazeta, the Ukrainian column included at least two tanks and five US-made MRAP M1224 MaxxPro vehicles. The Russian tank crew forced the Ukrainian group to enter a minefield, where some of their equipment pieces were blown up, the media outlet reported.
The battle came amid Kiev's attempts to breach Russian defenses during its much-touted counteroffensive. The operation, which started on June 4, has failed to bring about significant changes on the battlefield, almost two months after it was launched.
Ukrainian troops have suffered heavy losses, including Western-supplied heavy armor, during their largely unsuccessful attacks on Russian defenses. According to Western media, Kiev's backers have also been frustrated by the slow pace of the operation.
The Financial Times reported on Wednesday that the Ukrainian troops had already lost "almost a fifth of NATO kit" provided for their counteroffensive. On Thursday, Russian President Vladimir Putin described the difference between the losses of the two sides as "colossal." Ukraine lost ten times more soldiers than Russia during the battle, he claimed.