By VT
CatManDoo@CatManDoo18#Russia finally hit a #USA military training center outside Lviv where U.S. troops lived while deployed and U.S.-funded simulation center used to train Ukrainian soldiers were in #Lviv#Ukraine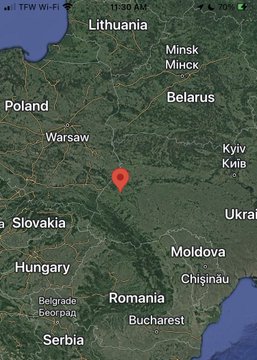 Moscow has repeatedly warned foreign countries against allowing their citizens to travel to Ukraine in order to take part in the hostilities there. The Kremlin has stated that anyone firing at Russian troops carrying out the special military operation in Ukraine will be considered a valid target.
Thus, when Russia destroyed the 7th Army's 'Simulation Center' in Lviv, Ukraine, the US has been silent though there must have been US military deaths. From 2017, the Information and Propaganda Center for the Ukraine:
According to Ukrainian Defense Minister Stepan Poltorak, the center will be one of the most progressive locations in Eastern Europe. Control bodies of the units of the Armed Forces of Ukraine and partner countries will undergo training there.
"This center is unique in allowing full simulation of various [combat] situations, check the level of each military and adjust the training of units. In the course of military operations, every day we face with different tactics, decisions and situations. The center's work will allow us to draw conclusions from situations that occur in the Anti-Terrorist Operation zone, plan and change the training of our military personnel," Poltorak said, according to ZIK.
As the minister noted, this is the first such center in Ukraine. It was created due to the help of the American partners. According to Poltorak, $22 million was spent on equipping the center. Poltorak specified that it was the defense ministry which took up costs for constructing the center itself while the equipment required was procured by partners from the United States.
Poltorak said that similar centers would be set in Mykolaiv and Dnipropetrovsk regions.
The center has already begun its work within the framework of the Ukrainian-U.S. military exercises.
RAZOR'S DESTINY@razor_destiny#ThiagoRossi a #Brazilian#mercenary who went to Ukraine said that most of his unit was #wiped in the last #airstrike and that he and whats left are now fleeing to #Poland on his IG stories. #RussiaUkraineConflict#Russia#Ukraine#News#istandwithrussia
Up to 180 foreign mercenaries were killed in precision strikes carried out by Russia against Ukrainian training centres located at the Yavorovsky military compound and near the settlement of Starichi, Russian Defence Ministry spokesman Igor Konashenkov has stated.
He elaborated that these centres were being used to train and organise foreign mercenaries to fight Russian troops in Eastern Ukraine, as well as to store weaponry sent to the country by foreign nations.

Prepared Man@RetiremyassThe look on the face of this Merc tells the tale. 30 Russian Kaliber Cruise missiles hit Mercenary training base and kill 180 just 12 MILES from Poland. This was a training facility for foreign mercenaries who recently entered Ukraine from several countries.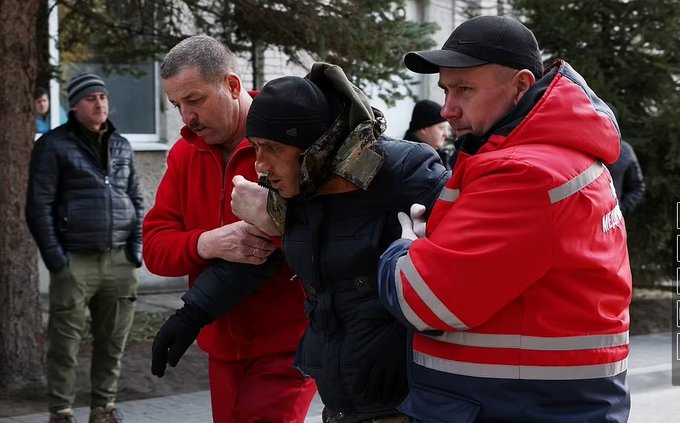 "We will continue to target foreign mercenaries who arrive on the territory of Ukraine", Konashenkov stated.
In addition, the Russian Air Force and air defences destroyed several Ukrainian aircraft, including one Su-24 (NATO reporting name: Fencer) attack jet and 11 unmanned aerial aircraft.
Anna Ahronheim@AAhronheim·Mar 13, 2022 Two American journalists went to film refugees leaving Irpin when they were shot at after crossing a checkpoint. The NYT journalist (I will not tweet the name) was shot in the neck and killed. His colleague was shot as well but evacuated to hospital.
SDbrvS@iwmasterAs a result of attack on military training centers of Ukraine in the area of ​​village Starichi and at Yavorovsky military training ground, 180 foreign mercenaries were killed. Russian MоD. Not a bad psychotherapy for everyone who wants to fight for ukrainian nazi
Two of them were Turkish-made Bayraktar TB-2 attack and reconnaissance drones.
Russian drones also destroyed 46 military objects of the Ukrainian Armed Forces, including three command centres, one air defence missile system, and two ammunition warehouses, as well as various military vehicles, the Defence Ministry's spokesman said.
Moscow has repeatedly called on foreign countries to prevent their citizens from travelling to Ukraine in order to join the hostilities there as the Russian Armed Forces conduct a special military operation in the country. Moscow noted that anyone attacking Russian troops will be considered a valid target.
President Vladimir Putin ordered the start of the operation on 24 February, following a request from the newly recognised Donetsk and Lugansk People's Republics (DPR and LPR). He insisted that Moscow was left with no other choice after Kiev failed to implement the Minsk agreements and following continued attacks against the Donbass republics.