The man and his injured colleagues were gathering information for a report on Kiev's use of cluster bombs, Russia says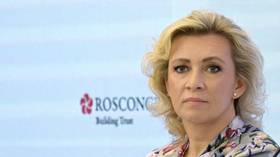 FILE PHOTO: Russian Foreign Ministry spokeswoman Maria Zakharova © Sputnik / Aleksey Danichev
Ukrainian shelling that claimed the life of a Russian journalist and left several others injured was not a coincidence, Russian Foreign Ministry spokeswoman Maria Zakharova said on Saturday. Earlier the same day, a war correspondent from Russian news agency RIA Novosti, Rostislav Zhuravlev, was killed in an artillery strike in Zaporozhye Region.
The reporter, along with his colleagues, who also suffered injuries in the strike, was collecting information on Ukrainian cluster bomb strikes on settlements in the region, Zakharova explained. "The Kiev regime is continuing its practice of criminal terror," she said in a statement on Telegram.
The spokeswoman also accused Kiev's Western backers of tacitly condoning these actions. The US, UK, and France express their concerns over the security of journalists "in words only," she said. Moscow also has "no illusions" regarding the "relevant international bodies," Zakharova added, claiming that they are likely to "turn a blind eye to this heinous crime."
Russian journalist killed in Ukrainian shelling
This only shows the "political bias and dysfunctionality" of these organizations, she said, adding that their silence makes them "accomplices to the terrorist rampage of Kiev." Zakharova vowed there would be "well-deserved punishment" for those behind the killing of the Russian journalist, and that those who supply the Ukrainian military with cluster bombs "will share full responsibility" for his death.
Earlier this month, the administration of US President Joe Biden decided to provide Kiev with cluster munitions – a move that sparked criticism even among Washington's NATO allies, including Canada, Germany, and the UK.
Russian President Vladimir Putin said in July that the use of cluster bombs should be regarded as a war crime. These weapons were banned by more than 110 nations under a UN convention in 2008 due to the grave danger they pose to civilians. Cluster munitions release small bomblets that scatter around a wide area and can remain unexploded for years, effectively acting as landmines.