Switzerland is no longer fit to play a mediation role between the two countries, the Foreign Ministry says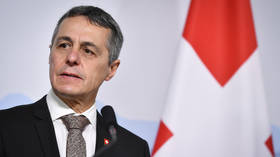 Switzerland's Foreign Minister Ignazio Cassis © © AFP / Fabrice Coffrini
Moscow has rejected claims by Switzerland's Foreign Minister Ignazio Cassis that unannounced talks on resolving the conflict between Russia and Ukraine have been taking place in Geneva.
He told Le Temps on Wednesday that "secret" negotiations between the two sides were underway on Swiss territory. The diplomat described those contacts as "non-high-level," but stressed that Switzerland was also ready to provide a venue for contacts between top officials from Moscow and Kiev.
When addressed about the issue on Saturday, Russian Foreign Ministry spokeswoman Maria Zakharova referred journalists to a comment made by presidential aide Vladimir Medinsky the previous day.
"As far as I know, Russian diplomats, representatives of the administration and government aren't conducting any negotiations of high or any other levels" with the Ukrainians, Medinsky stated.
 Switzerland rules out seizing Russian assets
Zakharova also rejected the very idea of holding any negotiations on Swiss territory, arguing that "Switzerland, which has joined the West's illegal unilateral anti-Russian sanctions, in our understanding, is no longer a neutral state and can't claim any intermediary role in resolving the Ukrainian crisis."
Switzerland opted to join EU sanctions against Moscow when they were first introduced a few days after the outbreak of the conflict on February 24, 2022. Cassis claimed back then that the Alpine country stood "on the side of Western values" and that its neutrality remained intact despite the "extraordinary" move.
The Russian Foreign Ministry spokeswoman also noted that Ukrainian President Vladimir Zelensky had signed a decree in the fall officially banning him from any dialogue with his Russian counterpart, Vladimir Putin.
READ MORE: Only one potential 'scenario' for Ukraine talks – Moscow
Russian and Ukrainian representatives haven't met at the negotiating table since a high-profile meeting in Istanbul in late March.
Medinsky, who headed the Russian delegation in Turkey's largest city, spoke of significant progress made during those talks. However, Kiev soon backtracked on all of those agreements, with Moscow suggesting that it had been done under pressure from Zelensky's Western backers.
Russia maintains that it's ready to look for a diplomatic solution to the crisis, while also noting a lack of any reasonable proposals from either Kiev or Washington.