Will Moscow's long term partner bite the bullet and embrace Washington at its expense?
By Joydeep Sen Gupta, Asia Editor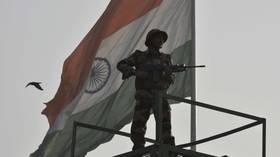 FILE PHOTO: An Army Jawan on alert during the occasion of the Indian Army Day Public Performance by Indian Army in the wake of Indian Army Day. © Raj K Raj / Hindustan Times via Getty Images
India ranks third globally in terms of defense budget and will increase its military spending this year. The country is facing challenges from Pakistan and China on its borders to the west, north and northeast, and New Delhi's military might is in critical need of a technological upgrade. The problem is that India's defense capabilities in recent years have oscillated in their dependency between Moscow and Washington. The moment is fast approaching when the world's most populous country, one of its fastest growing economies, will have to choose between two rivals.
India's new defense budget
India seeks to become a $5 trillion economy by 2025, which could have been achieved earlier had it not been for the Covid-19 pandemic. While bidding to achieve a growth rate of 6.1% despite the global headwinds due to the inflationary pressures that the West is facing, Indian Finance Minister Nirmala Sitharaman tabled her fifth consecutive Union Budget in early February.
Total federal spending under the fiscal year 2023-2024 budget, which starts in April, will be 45 trillion rupees, the equivalent of nearly $550 billion. Capital expenditure (capex) is being increased 33% year-on-year, to $122 billion, with a view to boosting India's infrastructure.
 The West thought oil sanctions would cripple Russia, here's why the plan backfired
Data compiled by Stockholm International Peace Research Institute (SIPRI), an independent resource on global security, showed India's military spending of $70.6 billion last year ranked third highest in the world, after the US' and China's.
This year, Sitharaman has allocated 12.95% more to the armed forces and the total amount of military spending will be 5.94 trillion rupees ($72.6 billion). According to the minister, 2.77 trillion rupees will be spent on salaries and benefits for the military, 1.38 trillion on pensions for retired military personnel, and the remaining amount on other expenses, including the purchase of new weapons, air assets, warships and other military equipment.
According to the latest budget document, India plans to spend about 242 billion rupees ($3 billion) on the navy and 571.4 billion rupees ($7 billion) on procurement for the air force, including aircraft.
New Delhi's military needs
The capital budget, which caters to the modernization needs of the armed forces such as buying new equipment and firepower, has seen a modest increase of 6.57%, research and development (R&D) brings out the rear, despite a growing accent on indigenization.
Army veterans have been clamoring for R&D, speedy orders, creation of testing facilities, an ecosystem to support innovation for the defense and aero industry coupled with non-lapsable funds to expedite the modernization process.
 The future of Russia-India relations is sound, just ask the diplomats who know best
Indian Prime Minister Narendra Modi, who is in the penultimate year of his second successive term, has been laying emphasis on the country's self-reliance, including the domestic manufacture of state-of-the-art weapons. This is a vital part of his vision of 'Amrit Kaal,' a term that comes from the ancient Vedic astrology as practiced by the country's Hindu majority and means 'golden era,' during which India aims to "ascend to new heights of prosperity," according to Modi.
The Indian government has implemented several changes to boost its defense sector and military might. For instance, data shows that the total capital allocation for the defense services sector has risen over 75% since 2013.
The Defence Production and Export Promotion Policy 2020, released by the Ministry of Defence (MoD), has put forth a turnover of $144 billion by 2025, including export of $4.3 billion in aerospace and defense goods and services. The cap on foreign direct investment (FDI) into India's defense sector via the "automatic route" (without requiring government approval) was increased in 2020, from 49% to 74%.
Russia, the US – the best of both worlds
Historically, India has been importing weapons from Russia since the 1950s after it gained independence from Great Britain in 1947 –first the Ilyushin II-14 cargo transport aircraft and, later, MiG-21 fighters.
Now, the Indian Army is equipped with Russian-made tanks and Kalashnikov rifles. Indian Air Force uses Sukhoi fighter jets and Mi-17 transport helicopters, while the Indian Navy's aircraft carrier INS Vikramaditya, also known as the Admiral Gorshkov, was formerly part of the Russian fleet. India has spent $12.4 billion between 2018 and 2021 in defense procurements, with Russia accounting for $5.51 billion, according to the SIPRI Arms Transfers Database.
 India sends massive aid package to Türkiye and Syria
Similarly, India has been buying arms from the US since the collapse of the USSR in 1991 and significantly more in the past decade.
India has bought aircraft, helicopters and missiles worth $22 billion in the last decade or so. Talks are on to purchase military hardware and software worth close to $10 billion, including repeat orders for six P-8I Poseidon long-range maritime patrol aircraft and six C-130J transport aircraft.
Also, negotiations are underway for the purchase of 30 MQ-9 Predator-B drones worth $3 billion, as well as NASAMS-II, a missile shield meant to protect vital installations in New Delhi from aerial threats, and two intelligence, surveillance, target acquisition, and reconnaissance (ISTAR) aircraft.
Is Washington wooing New Delhi?
The US and India have been forging a partnership in a bid to share advanced defense and computing technology.
The Biden administration appears to be assiduously wooing New Delhi to wean it off Russian military hardware and simultaneously offer a way to counter a resurgent China, with which India has unresolved border disputes.
Last May, the US-India Initiative on Critical and Emerging Technologies, which aims to strengthen military, technology and political links between the two nations, was launched. Recently US National Security Advisor Jake Sullivan rekindled that initiative and singled out India over China's aggressive overtures that had a "profound impact on the thinking in (New) Delhi."
 Controversial coup leader & US ally: Who was ex-Pakistani President Pervez Musharraf?
India is known to be keen to jointly manufacture, and domestically, the General Electric Co jet engines it uses in its combat aircraft. A proposal to that effect is pending before Washington. The bilateral initiative also includes transfer of technology on artillery systems, armored infantry vehicles and maritime security, coupled with semiconductors, quantum computing and artificial intelligence.
Sullivan acknowledged the long-standing weapons trade between India and Russia, and New Delhi's reliance on Moscow. Ending that partnership is apparently one of the intended goals of the US' own advances towards India.
"I'm not going to say that facilitating the movement of India off of Russian equipment to other equipment is an irrelevant consideration – of course it is not," he was quoted as saying by an international wire service.
However Sullivan's overtures are unlikely to be a deciding factor in India's foreign policy, where pragmatism has often triumphed over ideological moorings.
Putin or Biden?
Modi is likely to get face time with US President Joe Biden over the next few months. They will attend a Quadrilateral Security Dialogue (Quad) security partners' summit in Sydney, Australia, in the middle of this year, which also includes Japan. In September, Biden is expected to travel to India for the Group of 20 (G20) leaders' summit in New Delhi.
However, ahead of Modi's scheduled meeting with Biden, the Indian PM will have a one-on-one with Russian President Vladimir Putin in May, in Goa, India, on the sidelines of the summit of the Shanghai Cooperation Organisation (SCO) – a Eurasian political, economic, international security and defense organization headquartered in Beijing. He will likewise have an opportunity to meet Putin during the G20 summit.
India, whose hands are tied because of limited defense budget for arms procurement, needs to make an informed choice – whether time-tested Russian military wares or those of 'newfound ally' the US make the cut.
Earlier, India's refusal to join any camp over the Russia-Ukraine conflict earned PM Modi generous praise from Putin, who called the Indian leader a "true patriot" for following an independent foreign policy.