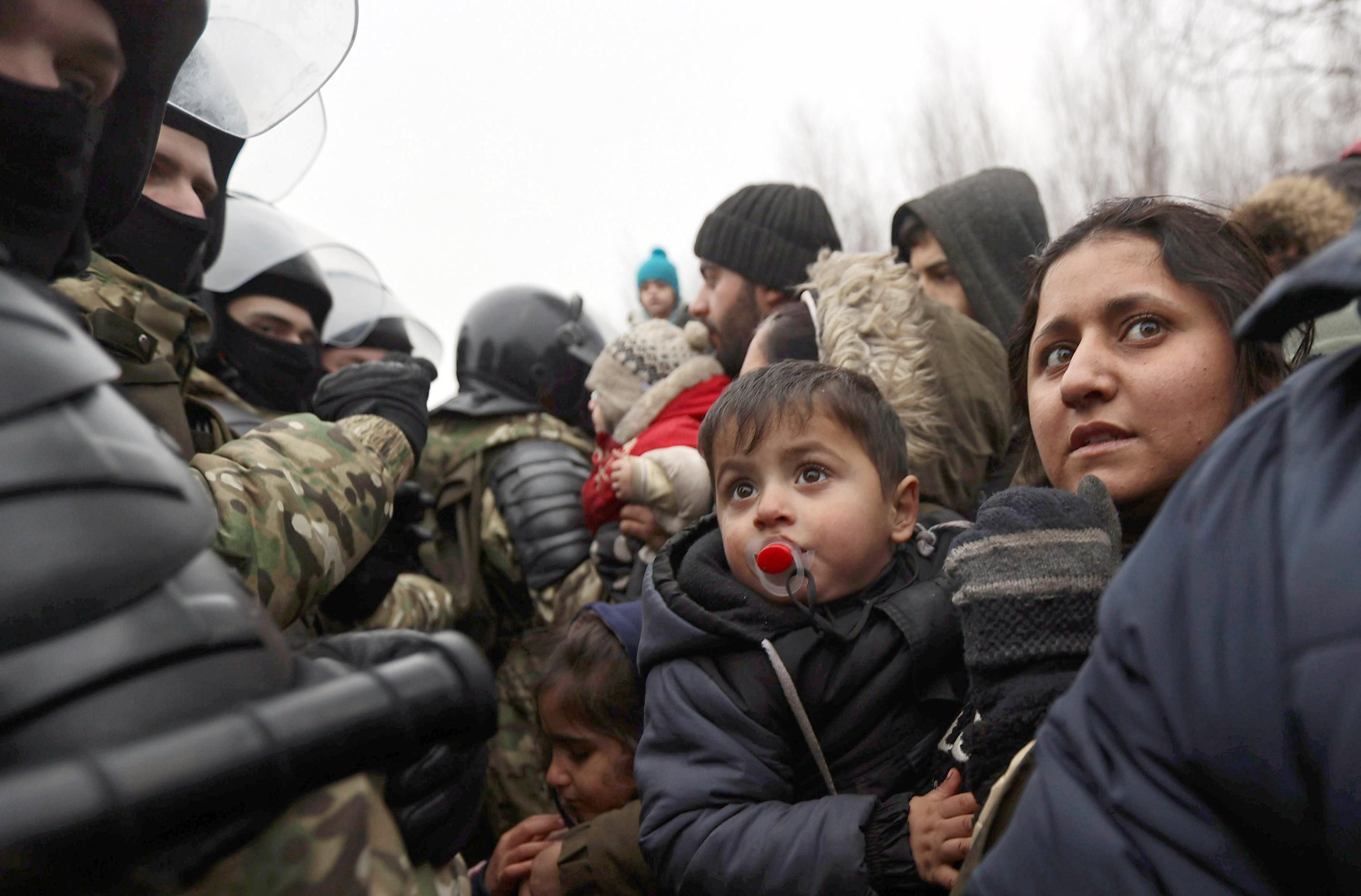 "A few thousand people at Europe's Polish border, many of whom have fled some of the worst crises in the world, is a drop in the ocean compared to the number of people displaced to countries that are much poorer elsewhere," said one refugee rights advocate.
The United Nations and international human rights advocates on Thursday condemned the political disputes that have resulted in hundreds of asylum-seekers being stranded at the Belarusian-Polish border in freezing temperatures—calling the situation, which has already turned deadly, "intolerable." Polish authorities sent riot police militarized police units to the border this week after hundreds of migrants refugees seeking safe harbor arrived there, reportedly at the urging of Belarusian President Alexander Lukashenko's government.
"Vulnerable people are not chess pawns to be used in a geopolitical struggle… European values are dangerously under threat when people are allowed to die from hypothermia at its external border." The police reinforced the already-militarized border, where refugees from war-torn Middle Eastern countries, including Iraq and Syria, have arrived in recent weeks in the hopes of making it to Western Europe. At least eight people have died so far at the border, where temperatures at night have dropped below freezing. 
United Nations human rights chief Michelle Bachelet said Wednesday that she was "appalled" by the situation and demanded Belarus and Poland immediately de-escalate their political disputes for the sake of vulnerable migrants and refugees. "Under international law, no one should ever be prevented from seeking asylum or other forms of international human rights protection, and individual consideration must be given to their protection needs," said Bachelet. "Governments in the region cannot stand by and allow more lives to be lost. States have an obligation to protect the right to life. These hundreds of men, women and children must not be forced to spend another night in freezing weather without adequate shelter, food, water and medical care." Poland's blocking of the migrants comes a year after the European Union and the United States imposed sanctions on Belarus over its presidential election, in which Lukashenko claimed victory and began his sixth term despite protests attended by hundreds of thousands of Belarusians who said the election was fraudulent. The election results were rejected by the U.S. and the E.U.
Common Dreams staff According to the Associated Press, Lukashenko responded to the sanctions by threatening to terminate an agreement to accept migrants. The Belarusian opposition party claimed this week that Lukashenko's government has actively encouraged desperate refugees to go to the Polish border, offering them help with obtaining visas and driving them to the region. The E.U. has supported Poland in its blocking of asylum seekers and migrants, with European Council President Charles Michel reportedly considering financing a new border fence or barrier. The Norwegian Refugee Council (NRC) on Thursday denounced both Poland and Belarus, expressing shock "Europe's inability to properly handle such a low number of migrants," considering that much poorer countries including Pakistan and Uganda are two of the top nations that welcome refugees each year.

Jan Egeland@NRC_EgelandIran alone hosts more displaced Afghans than 30 European countries combined. Despite this, nations in the 'European Championship in Erecting Barbed Wire against Refugees' give negligible funds for displaced Afghans elsewhere.
 "I have just flown out of Iran which is receiving up to 5,000 Afghans a day," noted Jan Egeland, secretary general of the NRC. "A few thousand people at Europe's Polish border, many of whom have fled some of the worst crises in the world, is a drop in the ocean compared to the number of people displaced to countries that are much poorer elsewhere." "The way Belarus is using migrants and refugees to achieve political ends is equally outrageous," Egeland continued. "Vulnerable people are not chess pawns to be used in a geopolitical struggle. But this does not in any way free Europe from its responsibility to ensure that people turning up on our borders are allowed to seek asylum and are treated humanely… European values are dangerously under threat when people are allowed to die from hypothermia at its external border."