Olaf Scholz says Russian President Vladimir Putin must withdraw troops from the neighboring country as a basis for peace talks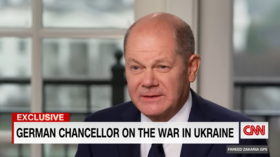 © CNN
Russian President Vladimir Putin holds the key to ending the bloody conflict in Ukraine, German Chancellor Olaf Scholz has said. He insisted Moscow must pull its troops out of the neighboring country in order for peace negotiations to take place.
"It is necessary that Putin understands that he will not succeed with his invasion and imperialistic aggression. And that he has to withdraw troops. This is the basis for talks," Scholz argued.
Speaking with CNN's Fareed Zakaria on Sunday, the German leader said Ukraine was "ready for peace, but there must be something done – and this has to be done by Putin."
He was asked whether he thought there was a prospect of a compromise by which Ukraine could cede Crimea and parts of Donbass to Russia in exchange for certain security guarantees like NATO and EU membership. In response, the German chancellor said the ball was in Moscow's court and that there would be "no decisions without the Ukrainians."
READ MORE: Stopping weapons supplies to Ukraine won't bring peace – Scholz
Scholz said the Kremlin had underestimated Ukraine's defense capabilities and the West's willingness to back Kiev before launching its military campaign last February.
Speaking on Friday at the Raisina Dialogue, a leading Indian conference on geopolitics and geoeconomics, Lavrov said peaceful resolution to the conflict was contingent on Kiev overturning its own ban on negotiating with Russia.
That was an apparent reference to a decree signed by President Vladimir Zelensky in October 2022, which ruled out talks with his Russian counterpart.
Moscow later dismissed a ten-point peace plan put forward by Ukraine in December as unreasonable, with Foreign Minister Sergey Lavrov saying Kiev was clearly "not ready for dialogue." The plan envisioned Moscow's withdrawal of Russian troops from all territories.
In early February, Vassily Nebenzia, Russia's permanent representative to the UN, said the "prospects of peace will be closer when the flooding of Ukraine with weapons stops" and if the leadership in Kiev listens to Russia's security concerns.