Posted by: John Phoenix
---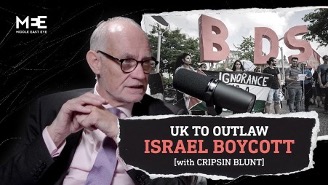 On October 25, Crispin Blunt confirmed that he was the Member of Parliament who police reported had been arrested on suspicion of rape and possession of drugs. The MP for Reigate, who is also a former justice minister and an ex-chair of the House of Commons' influential Foreign Affairs Committee, has now been suspended by the Conservative Party and reportedly told he must stay away from parliament.
Of course, allegations of sexual and other forms of misconduct amongst the 'great and the good' are hardly unknown, but there appears to be more to this case than meets the eye.
Blunt is insisting on his innocence. He had previously reported an allegation of extortion to police in relation to the same incident, and had spoken to officers several weeks previously.
In a statement, Blunt said: "It has been reported that an MP was arrested yesterday in connection with an allegation of rape. I am confirming that MP was me. The fact of the arrest requires a formal notification of the speaker and the chief whip.
"I have now been interviewed twice in connection with this incident, the first time three weeks ago when I initially reported my concern over extortion.
"The second time was … under caution following arrest. The arrest was unnecessary as I remain ready to cooperate fully with the investigation that I am confident will end without charge."
But what is most significant is that Blunt is a rare member of the British establishment in that he is a principled defender of the national rights of the Palestinian people.
Just some ten days before his arrest, Blunt, in his capacity as a co-director of the International Centre of Justice for Palestinians (ICJP) announced the intention to seek to prosecute British government officials for their complicity in Israeli war crimes in Gaza.
The IJCP issued a notice to Prime Minister Rishi Sunak over the UK providing "military, economic and political support to Israel, which has aided Israel's perpetration of war crimes.".
It specifically said that ordering more than one million people in north Gaza to evacuate to southern parts of the enclave in less than 24 hours may amount to both "a war crime and a crime against humanity."
"The siege of Gaza, restricting electricity, food, water and other basic necessities, constitutes collective punishment, which is also a war crime under the Geneva Convention," it added.
"Now that war crimes have been carried out, continuation of such support and assistance would mean that UK government officials would be complicit in the commission of war crimes and potentially crimes against humanity."
The notice by the ICJP was sent to Scotland Yard's War Crimes Unit.
Speaking to Sky News on October 14, Blunt said he was "not sure [his] colleagues have grasped the legal peril they are in" and "everyone must act to restrain people" if they know war crimes are going to happen.
Clearly referring to the Nuremberg principles, he described Israeli actions as a breach not simply of international law, but also of "the fundamental settlement that followed the Second World War."
Everyone must act to restrain it: "If you know that a party is going to commit a war crime – and this forcible transfer of people is a precise breach of one of the statutes that governs international law and all states in this area – [otherwise] you are making yourself complicit and equally guilty to the party carrying out the crime," he said.
He added that Israel has "had a deal of exceptionalism and impunity from international law for a very long time now."
Previously, in August 2022, the Zionist Jewish Chronicle reported that Blunt was under investigation by parliament's Standards Commissioner for being late in declaring payments received from the ICJP. It added that, in 2021, he had faced calls to have the whip removed after he suggested that Hamas had the right to hit "legitimate targets" in Israel during a parliamentary debate.
He has also previously said that banning Hamas, as the British state has now done, would have a "terrible chilling effect" in the region.
On 26 October, the ICJP announced that Blunt had stepped down as a director of the organisation following his arrest.
Given the sequence of events, and not least the undisguised attempts being made by Home Secretary Suella Braverman to criminalise any form of solidarity with the Palestinian people, it strains credulity and defies common sense to consider Blunt's arrest as a mere coincidence. Rather it is of a piece with the recent hounding of cultural personality Russell Brand, another high-profile supporter of the Palestinians, and the earlier allegations of rape made against Julian Assange, now totally discredited, but which served as the necessary pretext for his ongoing incarceration and the slow torture that has placed his life in danger.
Above all, it should be noted that, in initiating legal proceedings against the British Prime Minister and others for their role in aiding and abetting Israeli genocide, this courageous Conservative MP has dared to do what no Labour MP, however 'left', has ever contemplated. It is, therefore, scarcely surprising that powerful forces in the British state should seek to ruin and destroy him as a result. Equally, on this question, he deserves the full support of the working-class movement and all democratic and progressive people.