This blockage increases the risk of the coronavirus infection among stranded citizens.

The Colombian authorities have delayed nearly 12,000 Venezuelans from returning to their country, leaving them stranded on their side of the border.
RELATED: Venezuela Announces International Lawsuit Against US
Venezuelans stranded at the Colombian border decided to return home due to the health crisis caused by the COVID-19.
According to teleSUR correspondent in Colombia Hernan Tobar, about 180 people are waiting since Thursday in Barrio Visión Colombia, west of Bogotá, for their opportunity to return to Venezuela.
Immigration authorities have confirmed that those hundreds of citizens could be allowed to return to their country on Monday.
Agence France-Presse✔@AFPespanol

Cientos de migrantes regresan a Venezuela desde Colombia por la pandemia #AFP http://u.afp.com/3cbH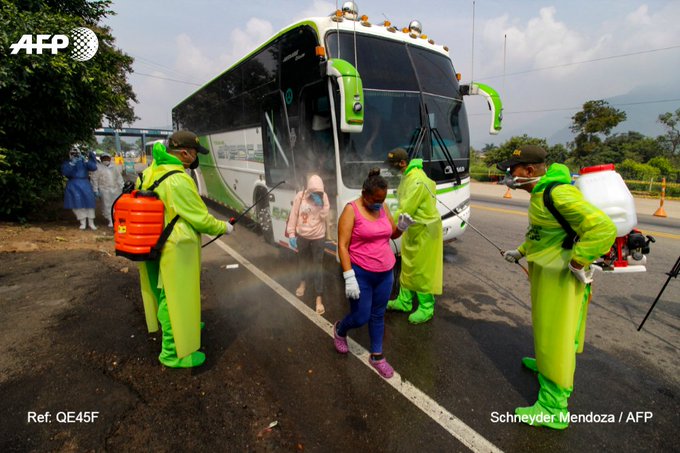 1464:19 AM – Apr 6, 2020Twitter Ads info and privacy153 people are talking about this"Hundreds of migrants are returning to Venezuela from Colombia because of the pandemic."

According to Colombian immigration authorities, lagging the border crossing is a measure to avoid crowding at exit points.
Until recently, Colombian authorities had led migrants to believe that it was Venezuela that was delaying them from returning.
But Colombia had to desist from that farce. "This is how the protocol set up with the mayors and governors is established. We must prevent agglomerations at the exit points," Juan Francisco Espinosa, director of Migration Colombia, said.
"Colombia is willing to help Venezuelans, but in a responsible way," Espinosa explained in a video released by his office.
Those who wish to return voluntarily will be able to do so, as long as they comply with the established procedure.
"And those who don't comply will have their trip suspended until they do." Espinosa concluded.
Since March 25, over 12,000 have returned to Venezuela in some 300 buses.
Venezuelan President Nicolás Maduro reported last Friday that more than 20,000 Venezuelans have returned, amid the current COVID-19 coronavirus pandemic.