President Ilham Aliyev sees no "serious obstacles" to reaching an agreement with Yerevan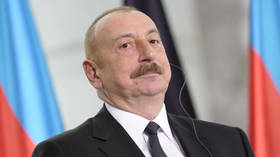 FILE PHOTO: Azerbaijani President Ilham Aliyev © Global Look Press / IMAGO
Azerbaijan and Armenia may sign a peace agreement in the near future, Azerbaijani President Ilham Aliyev told local media on Sunday, without revealing the exact timetable of a potential deal. Baku sees no major obstacles to a deal after Yerevan recognized the long-disputed region of Nagorno-Karabakh as being part of Azerbaijan, he added.
"Now that Armenia has recognized our territorial integrity, any serious obstacles to the peace treaty have de-facto vanished," Aliyev said on Sunday. The president also said he was "sure" that a deal "could be signed in the near future" if the present situation stands.
On Friday, Reuters reported, citing Baku's envoy to France, Leyla Abdoullayeva, that the sides could finalize an agreement as early as June 1, during the summit of the European Political Community (EPC) in Moldova. "It's a historic moment and a momentum that can't be missed," she told journalists in Paris.
Armenia's Foreign Ministry, however, denied that a deal could be struck that soon. The two sides are still discussing the details of a future agreement, Foreign Ministry spokeswoman Ani Badalyan told Sputnik Armenia, adding that her nation would be ready to sign the treaty "as soon as solutions to all key issues would be clearly formulated." The agenda for Armenia's delegation at the summit in Chisinau "does not involve signing the … agreement," she added.
Armenia and Azerbaijan reveal result of peace talks
Nevertheless, Armenian Prime Minister Nikol Pashinyan said last Monday that he considers it possible to sign the document in Chisinau on June 1. "[We] hope to potentially quickly reach an agreement on the text and sign it," he told journalists at that time.
On Thursday, Aliyev and Pashinyan met in Moscow, where they confirmed that they are prepared to normalize relations on the basis of "mutual recognition of territorial integrity." The two sides also said they were ready to end the 30-year dispute over Nagorno-Karabakh.
Nagorno-Karabakh was an autonomous region within Soviet Azerbaijan, but with an ethnic Armenian-majority population. It broke away from Azerbaijan even before Baku declared independence from the USSR, triggering an ethnic conflict that claimed thousands of lives before it was frozen by a 1994 truce.
The latest major flare-up took place in 2020 and resulted in Azerbaijani troops advancing to cut off the main road between Nagorno-Karabakh and Armenia proper. The conflict ended with a truce mediated by Russia. Pashinyan signaled ahead of the Moscow meeting on Thursday that Armenia was willing to cede the contested region but would seek international guarantees for the local ethnic Armenian population.