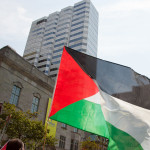 The Arab League, Palestine, and the tide of normalization
Palestine Center Brief No. 345 (October 26, 2020)
By Dalal Yassine
"Forty-six years ago, in October 1974, the Arab League met in Rabat, Morocco. The League recognized the Palestine Liberation Organization (PLO) as 'the sole, legitimate representative of the Palestinian people.' The decision challenged the United States, Israel, as well as Jordan and a month later the United Nations bestowed the same recognition on the PLO. Although it was evidence of Arab unity and solidarity with the Palestinian cause, the Arab League's decision also represented the policies of major Arab states. Today, however, those same states are leading the drive toward normalization with Israel and the Arab League appears to have abandoned the Palestinians.
Last month, the 'Abraham Accords' were signed at the White House. The United Arab Emirates (UAE) and Israel formalized diplomatic relations and Bahrain signed a declaration in support of peace. On October 18, Bahrain and Israel formalized ties. The UAE and Israel have moved quickly to implement normalization with increased commercial flights, cargo shipments, and promised investments."
To read this article, please click here.