Posted by: John Phoenix
The Ukrainian president admitted he keeps needing to "force" the German chancellor to send military aid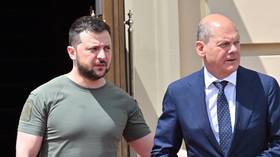 FILE PHOTO. © AFP / Sergei Supinsky
Ukrainian President Vladimir Zelensky has revealed he keeps needing to "force" German Chancellor Olaf Scholz to send arms to Kiev, constantly reminding him the deliveries are purportedly beneficial for the whole of Europe. The president made the revelation in a lengthy interview with Der Spiegel published on Thursday.
Germany did a "good job" of delivering Iris-T anti-aircraft systems and ammunition for them last year, Zelensky said, while appearing to admit that Kiev has been actively spying on Berlin.
"We have changed our relationship and understanding. We received IRIS-T anti-aircraft systems, for which I am very grateful to Germany. You saved a lot of lives. I told the chancellor: Olaf, listen, we're short on rockets. I know that you don't have any more yourself, we also have an intelligence service. I know you give us everything you have," Zelensky stated, adding that Scholz somehow managed to push manufacturers into producing munitions for Iris-T faster.
READ MORE: Germany reveals how many tanks it will send Ukraine
The looming supply of modern tanks to Ukraine has also proved to be a "difficult" issue for Kiev and Berlin, as Scholz was reluctant to do so. Zelensky claimed he has had to constantly remind the chancellor about the purported importance of such support and its alleged value for the whole of Europe.
"Now we are yet again in a difficult phase with this debate about the German tanks, it is emotional and complex. I have to force him to help Ukraine and constantly convince him that this help is not for us, but for the Europeans," Zelensky stated.
Germany has long been reluctant to deliver modern tanks to Kiev, with Scholz giving in to Kiev's demands on January 25 and pledging to send in 14 Leopard 2 armored vehicles, as well as allowing other European operators of the German-made tanks to re-export them to Ukraine. Apart from that, Berlin also pledged to send in some 187 older Leopard 1 models to Ukraine from its stocks as well.
Moscow has repeatedly urged the west to stop "pumping" Ukraine with assorted weaponry, maintaining that continuous aid would only prolong the hostilities rather than change the ultimate outcome of them.