By asserting its presence in what it considers its territorial waters, Beijing plays into Washington's hand
By Timur Fomenko, a political analyst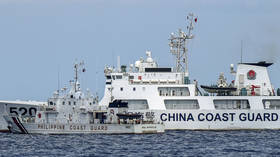 A Philippine coast guard vessel manoeuvers as a Chinese coast guard ship cuts its path in the disputed South China Sea on April 23, 2023 © Ted ALJIBE / AFP
Late last week, the Chinese Coast Guard deployed water cannon against Philippines ships on a military resupply run in the South China Sea. The Philippines described this incident, which took place over disputed waters, as "illegal and dangerous."
Beijing, citing historical precedent, claims the entirety of the South China Sea as its own territory, creating an overlapping series of claims against a number of Southeast Asian states. The US has subsequently used this issue as a primary aspect of the military dynamic of its China containment strategy.
Although it is easy to blame China as the aggressor given the scale of its claim on the South China Sea, and the fact that it is the biggest actor, one should not discount the possibility of states such as the Philippines deliberately creating such incidents as a way of ramping up tensions in a nod to the US. First of all, territorial disputes in Asia are sporadic, and happen on all sides. This is because the Asian geopolitical landscape following World War II was not subject to an all-encompassing resolution like Western Europe was. Rather, the interests of US hegemony in transforming Japan into a vassal state, and the subsequent rise of communism in China, meant that there was no reconciliation to be had. Old disputes and grievances remained.
As a result, bodies such as the South China Sea and the East China Sea remain hotly contested. But the existence of these disputes alone does not necessarily mean tensions are always present. An issue can fade away into the background, but can also be ramped up by politicians who wish to prioritize it and place it in public consciousness again. There are many examples of this, such as South Korea's dispute of the Dokdo (Takeshima) islands with Japan. Consider that the pro-US government of Yoon Suk-yeol barely ever mentions it, but the more liberal administration of Moon Jae-in did a lot. The same rule applies to islands in the South China Sea, as well as the Taiwan question, the Diaoyu/Senkaku dispute, and so on.
China claims US ally seeks to 'permanently occupy' disputed island
Currently, the Philippines is on a pro-US trajectory again. Following the rule of Rodrigo Duterte, who was more geopolitically ambivalent, Ferdinand Marcos Jr. has tilted back to Washington and signed an agreement to expand the US military presence in his country by granting it three additional bases. While Duterte sought peace and reconciliation with China, the new administration seeks to stage incidents in order to provoke Beijing and trigger a reaction, militarizing the disputed territory and therefore forcing China's hand to 'defend' it. Increasing tensions this way plays to Washington's narrative.
In turn, this gives the US justification to increase its military presence in the area, pulling more countries into its orbit and framing China as the aggressor. Despite China's territorial claims, its success in this situation actually rests on avoiding escalation and instead making progress in peacefully resolving South China Sea disputes, for example, by establishing a regional maritime code of conduct. However, this is easier said than done when all parties involved have invested significant nationalistic sentiment into their respective positions and any concessions would be seen as a sign of weakness. Herein lies China's Achilles heel. As much as China's claim on the South China Sea predates the People's Republic itself, and is ironically shared by Taiwan, Beijing has little space to compromise on arbitrarily insisting the entire waterway is its own and therefore comes under the designation of 'national sovereignty'.
This makes it very easy for the US to take advantage of the situation, drive a wedge in and disrupt the building of peaceful relations between China and the Association of Southeast Asian Nations (ASEAN) countries. With the West becoming more hostile, these neighbors have become more integral to China's own trade and economic future. Washington is determined to disrupt that where possible in the name of its Indo-Pacific strategy and subsequently impose its own hegemony over them. It will do that not through trade, but by creating tensions and then billing itself as a security provider. This is easier to do when states such as the Philippines are enabling it. This means that Beijing ultimately has to be tactful in its diplomacy, and exert restraint constantly, otherwise, more and more foreign naval assets will be appearing in the region.