NOVANEWS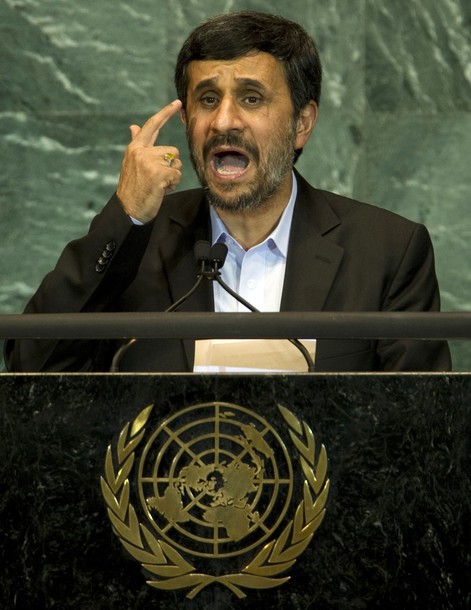 From 
PressTV
: 
Quds Day will remove Zionist black stain: Ahmadinejad
Iran's President Mahmoud Ahmadinejad says the International Quds Day is 
the day of unity among all human beings to remove the Zionist "black stain" from the human society
.
"Today, 
countering the entity of Zionism and the fabricated Zionist regime safeguards rights of all human beings, defends human dignity and paves the way to save humankind from arrogance, poverty and misery
," Ahmadinejad said in an address at the International Quds Day on Friday.
The world should know that most 
Western hegemonic and colonial powers maintain a joint commitment to protect the entity of the Israeli regime
, he added.
The Iranian chief executive stated that 
the Israeli regime is a tool to control the Middle East region and the entire world, stressing the regime's existence is an insult to the mankind
.
He added that Western powers are justifying the Israeli regime's homicide "because they are dependent on them (Zionists)."
Ahmadinejad said that 
the Zionists masterminded the Word War I and II to dominate nations and prepare the ground for the US power
.
He added that 
all the world's main centers of power, media and banks are controlled by the Zionists. However, they "use all of them for destruction of values and nations
."
He said that even the US presidential hopefuls have to bow to the Zionists if they want to have the chance to run.
From 
The Independent

 : 
Ahmadinejad: Israel is 'an insult to humanity'
Israel's existence is an "insult to all humanity"
, Iran's President said yesterday in one of his sharpest attacks yet against the Jewish state, as Israel openly debates whether to attack Iran over its nuclear programme.
Mahmoud Ahmadinejad said 
confronting Israel is an effort to "protect the dignity of all human beings
", adding: "
The existence of the Zionist regime is an insult to all humanity
". He was addressing worshippers at Tehran University after nationwide pro-Palestinian rallies, an annual event marking Quds Day on the last Friday of the holy month of Ramadan.
Mr Ahmadinejad also 
called Israel "a corrupt, anti-human organised minority group standing up to all divine values
".
___________________________________________