NOVANEWS
As "strongmen" Trump and Erdogan come to blows over evolving geopolitical hostility, much of the world worries about getting caught in the economic and political wreckage of the once-close NATO allies' violent lovers' quarrel.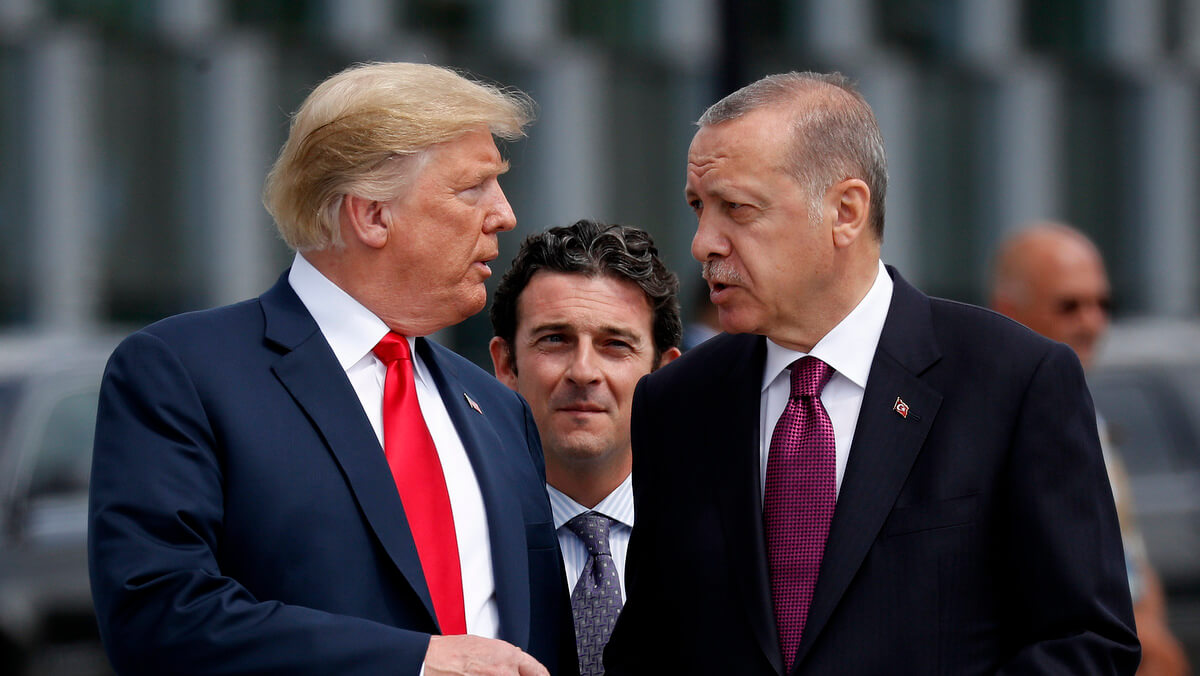 President Donald Trump, left, talks with Turkey's President Recep Tayyip Erdogan, right, as they arrive together for a family photo at a summit of heads of state and government at NATO headquarters in Brussels on July 11, 2018. Pablo Martinez Monsivais | AP
By 
Elliott Gabriel
 ANKARA, TURKEY (Analysis) – The United States' economic war on Turkey over the detention of a U.S. pastor is showing no sign of winding down any time soon. Instead, the long-brewing row between the two countries could mark a significant break in relations between Washington and Ankara, which has long played the role of a U.S.-loyal guard at NATO's southern flank.
Washington's financial sanctions on two Turkish ministers and doubling of tariffs on the country's aluminum and steel products sparked a sharp devaluing of the Turkish lira, and its subsequent 
rebound
, which has set in motion a market volatility that has spilled beyond Turkey's borders. Economists fear that the feud, if it spirals further downward, may spark a crisis of global proportions.
Trump, for his part, has pointed to the detention of Evangelical pastor Andrew Brunson on espionage and terrorism charges as the cause of the diplomatic battle. Yet the sharp escalation of the feud between the two countries goes far beyond the pastor alone and is rooted in their overlapping and sharply conflicting geopolitical interests.
The crisis is typical of the global context, where countries have struck new diplomatic courses as the declining power and reliability of Washington forces governments to rethink their long-term foreign-policy goals.
Economic "terrorists" and back-stabbing
On Wednesday, Turkish President Recep Tayyip Erdoğan signed a decree slapping tariffs on U.S. imports, including alcohol, coal, cosmetics, rice, tobacco, and vehicles. Some of the tariffs are as high as 120 to 140 percent, depending on the product.
The move to introduce the new tariffs comes a day after Turkey's leader vowed that his country would boycott U.S. electronic goods, such as the iPhone, claiming Turks would opt for alternatives produced at home and in countries like South Korea.
Turkish Vice-President Fuat Oktay announced that the tariffs were "within the framework of the principle of reciprocity in retaliation for the conscious economic attacks by the United States."
Ankara's critics claim that the collapse of the lira — which has lost over 40 percent of its value this year – is a result of the country's structural economic weaknesses and debt exposure. Erdoğan has held firm to his position that hostility from foreign financiers or "economic terrorists," as well as a "stab in the back" by U.S. President Donald Trump is the root cause of the lira's downfall.
Turkey's grievances
Described by Trump as a "fine gentleman and Christian leader," Brunson has become a cause célèbre for the president's Religious Right base. An online petition in support of the pastor that alleges "Christianity is on Trial" in Turkey has gained nearly 600,000 signatures. The petition was set up by the American Center for Law and Justice (ACLJ), a Christian fundamentalist advocacy group led by Trump administration lawyer Jay Sekulow.
Brunson is under house arrest on charges of acting in concert with two groups considered "terrorist" by the Turkish government: the Kurdish Workers Party or PKK, and the banned Islamist transnational Hizmet movement led by exiled Pennsylvania-based preacher Fethullah Gülen.
The ACLJ is among those who claim the charges against the pastor are wholly illegitimate and are a question, primarily, of Brunson's 23 years of evangelical Presbyterian missionary work heading a church in the coastal Aegean city of Izmir. Officials like U.S. Ambassador to Turkey John R. Bass claim the accusations are groundless, yet they don't deny that Brunson had contact with the banned Kurds and Gülenists.
Others have depicted the crisis as the cascading outcome of a mistranslated statement during a conversation between the Turkish and U.S. leaders at the July 11 NATO summit, exacerbated by Trump's lack of finesse in world diplomacy and the election considerations of devout Evangelical Christian politician Vice President Mike Pence.
Either way, the Brunson matter has raised the sensitive issue of what Ankara sees as Washington's protection of the dangerous Gülen movement, both by the current and previous U.S. administrations. Once allied with the ruling Justice and Development Party (AKP), members of the movement are now referred to by Turkish officials as FETO – an acronym meaning the "Gülenist Terror Organization." The group's policy of infiltrating every level of Turkish civil society is now depicted as a sinister, cultish conspiracy aimed at subverting the country and subjecting it to rule from abroad.
The Gülen movement is seen by the Turkish state as the principal force behind the abortive coup attempt in 2016. The attempted overthrow of Erdoğan – which the Turkish president called a "gift from God" – led to a vast crackdown on Gülen's followers and a massive purge of the military, judiciary, press corps and civilian bureaucracy. Critics charge that the government had prepared a list of tens of thousands of political opponents, from various opposition factions, long in advance of the coup.
Gulf Arab governments – namely the United Arab Emirates and Saudi Arabia – were vocally supportive of the failed putsch, sparking Ankara's suspicions that the U.S. and its regional allies in Israel and the Middle East were conspiring to effect regime change in Turkey and supporting the Gülen movement. An email leak last year from the account of Abu Dhabi's ambassador to Washington reinforced Ankara's suspicions.
Turkey: from "good neighbor" to top mischief-maker?
Once a secular and pro-Western successor to the Ottoman Empire that aspired to join the European Union, modern Turkey under Erdoğan has now assumed a populist identity blending moderate political Islam, nationalism, and an Eastern-facing agenda. While former AKP leader, top diplomat, and Prime Minister of Turkey Ahmet Davutoğlu once described Turkey's foreign and regional stance under Erdoğan as a "zero problems policy," the reality has been anything but.
Following the breakout of the 2011 Arab Spring, Turkey came into its own and began promoting the so-called "Turkish model" of Islamist-tinged democratic governance as a model for regional states whose regimes collapsed. Along with its ally, Qatar, Turkey backed Egypt's newly-elected president, Muslim Brotherhood leader Mohammed Morsi. A subsequent military coup against Morsi provoked an embittered response from Erdoğan, who saw the overthrow as a triumph for Washington, Tel Aviv, and his Gulf Arab rivals.
Turkey has engaged in a seemingly endless battle with Syrian President Bashar al-Assad, yet in recent months Ankara has apparently resigned itself to a victorious Assad remaining in Damascus and contented itself with pursuing its own invasion of the country to fight the U.S.-allied Syrian affiliates of the Kurdish PKK.
Ankara has waged a dramatic confrontation with the U.S.-backed Saudis and Emiratis across nearly every fault line in the Middle East and North Africa, from Qatar to Palestine and Libya to Iran. Erdoğan and the Gulf royals haven't limited their fight to the modern era alone – even the history books were fair game last December as the Turkish president defended "Erdoğan's ancestors" from "miserable" Emirati officials who accused the Ottoman Empire of crimes against Arab Muslims during the First World War.
Since Turkey shot down a Russian Aerospace Forces fighter jet in 2015, Erdoğan and Russian President Vladimir Putin have seen bilateral relations shift from a crisis to normalization and even what many see as a budding strategic relationship. Putin told his Turkish counterpart last month that the two "are on the same page," citing cooperation in Syria as an example.
Is the U.S.-Turkish relationship reaching the point of a divorce?
Turkey's agreement to purchase Russia's S-400 surface-to-air missile defense system signaled a significant break from its NATO allies. The move was a dramatic gesture by Erdoğan that conveys his grave displeasure with the West's failure to consider Turkish interests.
On Tuesday, the U.S. retaliated against the deal, as Trump signed into law the National Defense Authorization Act for 2019, which includes a prohibition of the sale of F-35 stealth fighter jets to Turkey pending a new Pentagon report on shifts in bilateral relations. The report will focus on the possible impact of permanently removing Turkey from the F-35 program, as well as the potential future of the main U.S. military base in the region, the Incirlik Air Base, where tactical U.S. nuclear weapons are stored.
Ankara's transition from a loyal subordinate of Washington to a player with ambitions for regional leadership will surely have major implications for the region, but fluid and rapid shifts in alliances and rivalries are hardly exceptional in today's multipolar geopolitical arena.
Turkey's government is now proclaiming its intent to cut the dollar from bilateral trade to offset sanctions while pursuing new alliances. Qatar and Germany have backed Erdoğan, as has Russia. Turkey has also been an abiding ally of Nicolas Maduro's Venezuela. In a speech to supporters the president said:
Before it is too late, Washington must give up the misguided notion that our relationship can be asymmetrical and come to terms with the fact that Turkey has alternatives."
Still, the possibility exists that the Turkish president has bitten off more than he can chew – both at home and abroad. While Erdoğan believes that the campaign of repression following the failed coup has neutralized his domestic opponents' ability to dislodge him from power, the pain of a sharp economic crisis could reinvigorate the secularists, military figures, leftists, Kurds and other opponents who chafe at AKP rule.
Is a declining US superpower making lemons from lemonade?
Yet Trump, too, has spurned the conventional wisdom that one shouldn't wage wars on too many fronts. By levying tariffs and sanctions on traditional foes and allies alike, the White House could win some short-term concessions, but such a "strategy" is also assuring the formation of new alliances and financial arrangements that will prove detrimental to the long-term interests of the United States.
Whether Washington wins the current fight with Ankara or not, U.S. hegemony has long been in the midst of a profound crisis of credibility and prestige. The latest spat with Turkey merely underscores the fact that Washington is unable to permanently direct the actors who populate the world stage. As Immanuel Wallerstein, the founder of world-systems theory famously wrote in 2013:
What happens when the much lessened power of the erstwhile hegemonic power seems clear to other countries is that relative order in the world-system is replaced by a chaotic struggle among multiple poles of power, none of which can control the situation. The United States does remain a giant, but a giant with clay feet … The problem for everyone in a situation of geopolitical chaos is the high level of anxiety it breeds and the opportunities it offers for destructive folly to prevail."
Yet Washington appears to be following the advice of the Korean War-era U.S. Marine Corps mascot, Lt. Gen. Lewis "Chesty" Puller, who famously said during a battle:
All right. They're on our left, they're on our right, they're in front of us, they're behind us … they can't get away this time."
Unfortunately for Washington, the all-sided take-no-prisoners mindset may work in a firefight but it's no recipe for success in the struggle to maintain hegemony in a multipolar world that is still emerging.