As Western stockpiles dwindle, Kiev's forces need to ration artillery rounds, Defense Secretary Lloyd Austin warned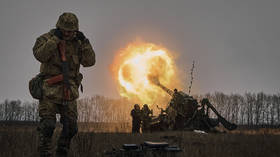 Ukrainian soldiers fire an artillery gun at Russian positions in Donetsk Region, Russia,December 16, 2022 © AP
The US and its European allies are training Ukrainian troops to use less artillery ammunition, American Defense Secretary Lloyd Austin told reporters on Tuesday. Kiev has received millions of shells from the West, leaving NATO stockpiles depleted.
"We're working with the Ukrainian soldiers in various places throughout Europe to emphasize additional training on maneuver," Austin said after a meeting of NATO defense ministers in Brussels. "As they place more emphasis on maneuver… there's a good chance that they'll require less artillery munitions, but that's left to be seen."
Fighting in and around the Russian regions of Donetsk and Lugansk has been defined by grinding artillery duels, and Russia has held a firepower advantage since the conflict began. The Ukrainian side is currently firing between 5,000 and 6,000 shells per day, Norwegian arms industry executive Morten Brandtzaeg estimated last week. Assessments of Russian fire have varied hugely from anywhere between 5,000 and 60,000 artillery rounds per day. 
 'Brave Ukrainians doing dirty work', ex-Pentagon chief says in prank call
The US alone has given Kiev's forces more than a million 155 millimeter artillery rounds, and 160 M777 howitzers with which to fire them. Washington has donated an additional 491,000 rounds of other calibers, and has reportedly raided its stockpiles in Israel and South Korea to keep the shells flowing.
"In terms of munitions, this has been a tough fight throughout," Austin said. "We're going to do everything we can, working with our international partners, to ensure that we get them as much ammunition as quickly as possible."
NATO Secretary General Jens Stoltenberg called on Monday for the military bloc's members to "ramp up" their munitions production to keep pace with the "enormous amount of ammunition" consumed by Ukraine, after months of media reports suggested that European and American stockpiles are nearly depleted.
The US Army has already planned to increase its monthly production of 155mm shells from 14,000 to 20,000 this spring, still only enough for four days of firing. France and Australia agreed last month to jointly manufacture 155mm ammunition for Ukraine, although neither state said how many shells will be made per month, or when production will begin.