The deployment of US special forces would carry "indescribable risks," Moscow's ambassador said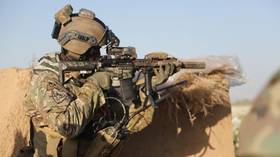 FILE PHOTO: A US Army Special Forces soldier is seen during a mission in Afghanistan, April 10, 2014. © US Army / Spc. Sara Wakai
Russia's envoy to the United States has responded to recent reports that Washington is seeking to resume its "top-secret programs" in Ukraine, warning that special operators on the battlefield would mean direct US involvement in the conflict.
Asked to comment on a report published in the Washington Post on Friday which said the Pentagon may restart its clandestine operations in Ukraine, Ambassador Anatoly Antonov said that while the claim has not been confirmed by officials, it would mark a major escalation.
"Discussions on the pages of one of the leading American media about the possible sending of Special Forces to Ukraine are very remarkable," he said. "Such publications once again testify that here in Washington there is an obsession with an unrealizable dream to inflict a strategic defeat on Russia and readiness to face indescribable risks in this pursuit."
If the US leadership decides to resume activities of the Special Operations Forces on the Ukrainian territory, it will represent undisguised participation of the regular army in the current conflict.
The Post report noted that military officials are now "urging Congress" to approve funding for top-secret programs, which were paused after the conflict with Russia kicked off nearly one year ago. Though no decision is expected until the fall, the Pentagon reportedly hopes to resume the projects sometime in 2024.
It remains unclear whether President Joe Biden will authorize deployments by American commandos, with the Post suggesting they may operate from a neighboring country. Prior to the conflict, US Special Operations troops ran two "irregular warfare surrogate programs" in Ukraine, one of which sent local Ukrainian operatives on "surreptitious reconnaissance missions in Ukraine's east."
READ MORE: Pentagon seeking to resume top-secret programs in Ukraine – WaPo
Antonov went on to accuse Washington of acting as an "accomplice" to Ukraine, saying US involvement in the conflict is driving the world toward "unpredictable consequences."
Washington has approved more than $30 billion in direct military assistance to Kiev since last year, supplying a long list of heavy weapons and other gear. The Kremlin has repeatedly urged against outside involvement in Ukraine, stating the weapons would only prolong the conflict, while vowing to destroy any Western military hardware shipped to the battlefield.