The American military is "controlling every shot" with Pentagon-supplied rockets, a Ukrainian official told the Washington Post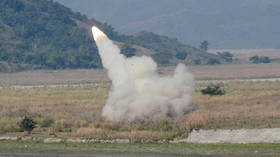 FILE PHOTO. A US-made HIMARS launcher is fired during an exercise. © Dondi Tawatao / Getty Images
The Ukrainian military requests precise coordinates from the Pentagon for almost every rocket fired from US-made artillery systems, and would not fire a shot without getting them, according to a report by the Washington Post.
Three Ukrainian officials and one senior US official spoke to the newspaper, on condition of anonymity, about America's involvement. One Ukrainian source implied that Washington has the final say on every action, making the case for the delivery of longer-range rockets to Kiev.
"You're controlling every shot anyway, so when you say: 'We're afraid that you're going to use it for some other purposes,' well, we can't do it even if we want to," the senior official was quoted as saying.
The US official disputed the characterization, claiming that Ukraine selected targets and that the American side simply provided intelligence to make best use of the GPS-guided munitions. But the Ukrainian official said that when the US fails to provide coordinates as requested, Ukrainian troops simply don't open fire.
The US has supplied the M142 High Mobility Artillery Rocket System (HIMARS) to prop up the Ukrainian military against Russia, while the UK has sent the M270 Multiple-Launch Rocket System (MLRS).
 Pentagon will allow Ukraine to fire long-range missiles at will
Both systems can fire various types of rockets, but the US has declined to provide the longest-range Army Tactical Missile System (ATACMS) tactical ballistic missiles. Washington reportedly has concerns that Kiev would use them to attack targets in Russia, while Kiev has been lobbying for lifting the restriction.
Russian officials have accused Washington of waging a proxy war against it, citing, among other things, its role in targeting Ukrainian strikes.
HIMARS launchers were reportedly used in attacks on civilian targets, such as the October 2022 strike on a river crossing in Kherson Region, which killed four and injured 13 others. A Ukrainian military spokesperson claimed at the time that the victims were Russian troops disguised as civilians.
Another incident occurred in January, and involved a HIMARS strike on a hospital in the city of Novoaydar in the Lugansk People's Republic. The attack killed 14 people and injured 24 others, according to the Russian military.