Washington accused the DPRK of "provocation after provocation" while urging it to abandon its nuclear arsenal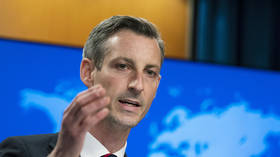 FILE PHOTO: State Department spokesman Ned Price speaks during a news conference in Washington, DC, March 10, 2022. © AP / Manuel Balce Ceneta
The United States will not seek dialogue with North Korea or repeal heavy sanctions imposed on the country unless Pyongyang ceases alleged "provocations," the State Department has said, vowing to continue the penalties indefinitely.
Speaking to reporters on Thursday, State Department spokesman Ned Price was asked whether Washington should ease its sanctions on the DPRK and halt joint military drills with the South in order to "talk with North Korea."
"We have an offer on the table to the DPRK for dialogue right now. This is an offer that the DPRK could have accepted over the course of nearly two years, and so far has chosen not to," he said. "Instead, the DPRK has engaged in provocation after provocation, each one of which poses a threat to international peace and security in the region and potentially beyond."
Though Price did not elaborate on the offer made to North Korean officials, during the same press briefing he said the US continues to seek "the complete denuclearization of the Korean Peninsula," echoing a goal set by several previous administrations.
READ MORE: North Korea unveils record number of missiles
"We would like to see the DPRK engage in dialogue. But until and unless that happens, our approach will remain the same," he said, adding that the US would continue to "coordinate closely" with allied forces in the region.
Pyongyang has repeatedly denounced joint military exercises between the US, South Korea and at times Japan, saying they are effectively rehearsals for an attack on the North. Price, however, insisted the drills have involved "defensive maneuvers" only, arguing they are necessary to demonstrate that the security of allies "remains ironclad."
The State Department spokesman also briefly touched on a large military parade held in the North Korean capital on Wednesday, calling the event a "propaganda exercise" after stating he would not comment. The parade saw an arsenal of military gear on display, including Pyongyang's newly developed Hwasong-17 intercontinental ballistic missile (ICBM). According to Ankit Panda of the US-based Carnegie Endowment for International Peace, the parade featured more ICBM launchers than ever before.
READ MORE: South Korea to test-fire 'high-power' rocket – media
The parade underscored growing military tensions in the region after a highly contentious 2022, which saw a record number of North Korean weapons tests and a flurry of joint drills by the US, South Korea and Japan, including the largest aerial exercise ever held between Seoul and Washington.
The United States maintains several layers of heavy sanctions on Pyongyang, imposing another round of penalties last December when US National Security Advisor Jake Sullivan said the White House was "committed to using pressure and diplomacy to entice North Korea into giving up its nuclear arsenal." Pyongyang has insisted its weapons are needed to repel a potential attack by the US and its partners, but says they are for defensive purposes only.