An economic downturn cannot be ruled out yet, Janet Yellen has warned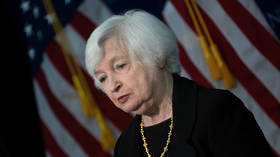 US Treasury Secretary Janet Yellen © Brendan Smialowski / AFP
US Treasury Secretary Janet Yellen has warned that the economy is still at risk of a recession, while expressing concern over persistently high inflation.
In an interview with the CBS show Face the Nation over the weekend, she said it's "appropriate and normal" for growth to be moderate.
When asked about a potential recession following the June jobs report, which was the weakest since December 2020 and showed that the US economy was adding fewer jobs than in previous months, Yellen said: "It's not completely off the table."
The US economy added 209,000 jobs in June, data released by the Labor Department last week showed. The unemployment rate decreased slightly from 3.7% in May to 3.6% in June.
Although inflation has begun to ease, it was still high, after prices rose 4% year-over-year in May, double the US Federal Reserve's 2% target, the treasury secretary noted.
"We have a healthy economy, a great labor market, inflation too high and a concern of ours and the American people, but coming down over time," Yellen said.
READ MORE: Treasury secretary explains why US can't break ties with China
For months, the Federal Reserve has attempted to restrain inflation by hiking interest rates to their highest level in decades, slowing economic growth and prompting fears of a recession.
Last month, the central bank decided not to raise interest rates further but signaled that more rate hikes this year were possible, saying last week that a recession in 2023 is "quite likely" but probably won't be "deep" or "prolonged."