Kiev no longer has a "blank check" from Washington, and support may wane as political opposition grows, Newsweek says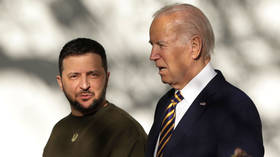 Presidents Joe Biden and Vladimir Zelensky walk toward the Oval Office during the Ukrainian leader's visit to the White House on December 21. © Getty Images / Alex Wong
Support among US lawmakers for continuing aid to Ukraine is "fairly robust," but as the conflict with Russia drags on and the 2024 election approaches, Washington's backing for Kiev may waver, Newsweek reported on Wednesday.
Members of Congress increasingly view Ukraine aid as "finite," and more and more of their constituents believe the US is giving too much to Kiev, the media outlet said. "There has been a decline in the share of Americans who see the war as a direct threat to US national security," University of London professor Rob Singh told Newsweek.
Even as President Joe Biden and members of his administration continue to publicly pledge support "as long as it takes" for Ukraine to win the conflict, US officials are emphasizing to Ukraine's leaders in private that "we can't do anything and everything forever," the Washington Post reported earlier this week. Newsweek cited the Institute for the Study of War, a Washington think tank, as saying US officials have also signaled to Kiev that Western security aid is "finite."
 Less than half of Americans support Ukraine military aid
The shift in mood came after Republicans won control of the House of Representatives in November's midterm elections. The victory came after Republican leader Kevin McCarthy, now House speaker, said in October that the US would no longer give a "blank check" to Ukraine if his party won House control.
Representative Matt Gaetz of Florida last week introduced a resolution, co-signed by ten of his colleagues, calling for the US to suspend its aid to Ukraine and urge Kiev and Moscow to negotiate a peace deal. Such opposition will make it tougher for strong aid packages to get through Congress, Singh said. He added that the issue will likely become more divisive as former President Donald Trump and other US presidential candidates debate Biden's aid policy.
Such military aid can never be infinite, Kings College London professor Michael Clarke told Newsweek. "These present indications of potential reluctance to continue are really only expressions of what is existentially true – that Ukraine must not just keep fighting this year but come up with some decisive shift on the battlefield that somehow shifts the dynamic clearly in its favor."