A "reform path" for Kiev will be drawn up at some point, National Security Advisor Jake Sullivan has said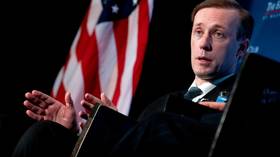 US National Security Advisor Jake Sullivan © AFP / Stefani Reynolds
Allowing Ukraine to join NATO at the moment would lead the US-led military bloc "into a war with Russia," White House National Security Advisor Jake Sullivan has said.
A "reform path for Ukraine" to become a NATO member will be drawn up but "I can't put a timetable on it," Sullivan told reporters on Tuesday at the bloc's summit in the Lithuanian capital, Vilnius.
"Today, we're not going to define how the war [between Ukraine and Russia ends], we're not going to lay down the definition for that," Sullivan stated. He added that "there have been historical circumstances where you've seen different ways of looking at that question."
Sullivan also spoke about the agenda for talks between US President Joe Biden and his Ukrainian counterpart, Vladimir Zelensky, which are scheduled to take place during the event in Vilnius. The two leaders will discuss "how the US alongside our… partners are prepared to make long-term commitments to help Ukraine defend itself now and to deter future aggression," he said.
During an interview with CNN on Sunday, Biden argued it was "premature" to speak about NATO membership for Ukraine, adding that Kiev needs to carry out more reforms and achieve "democratization" before it can become part of the bloc.
NATO chief fudges Ukraine membership bid
On Tuesday, NATO Secretary General Jens Stoltenberg said Ukraine will not be given a clear roadmap to join the bloc at the summit in the Lithuanian capital. Instead, he announced that members could only "remove the requirement for a Membership Action Plan (MAP)," which in theory would speed up Ukraine's accession by making it a single-step process instead of a two-step one.
Zeleksky later wrote on Telegram that his government had received "signals" that "there's no timeline for both the invitation [or for] Ukraine's membership" in the text of the final statement of the NATO summit, which is currently being drafted.
The Ukrainian leader called the situation "absurd," claiming that NATO's "indecisiveness" was a sign of the bloc's "weakness."
The comments reportedly did not go unnoticed by NATO, with an unnamed senior diplomat from Central Europe telling Politico that Zelensky "is going too far." "I think that this is not a thoughtful and fair approach [from] the Ukrainian leader," he added.
READ MORE: Security chief offers explanation for lack of NATO invitation to Ukraine
Another person familiar with the current draft of the NATO statement told Politico that the bloc had sent a strong signal to Ukraine that the language in the communique was almost final, and that Zelensky's government would have to accept it.
Moscow, which views NATO as hostile and vigorously opposes its eastward expansion, highlighted Kiev's push to join the alliance among the main reasons for launching its military operation against Ukraine in February 2022.