An alternative to Russia's Mir could be developed by summer, an ambassador announced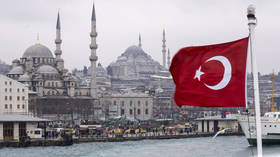 © Getty Images/Westend61
Moscow and Ankara are working on an alternative to replace the Russian payment system Mir after the US threatened Türkiye with sanctions for servicing its cards, Russia's ambassador there, Aleksey Yerkhov, said on Thursday.
Mir was developed by the Central Bank of Russia in 2014 as a domestic alternative to Visa and Mastercard, after the first round of sanctions had been imposed on Moscow.
Mir cards had been accepted in Türkiye, Vietnam, Armenia, South Korea, Uzbekistan, Belarus, Kazakhstan, Kyrgyzstan, Tajikistan, South Ossetia, and Abkhazia. Five Turkish banks adopted the Mir payments network in early August 2022, which allowed Russian tourists to pay for purchases in the country.
But last year, the US Treasury's Office of Foreign Assets Control (OFAC) announced that it was ready to impose sanctions on any financial institution outside Russia using Mir, citing the "risk of facilitating Russia's efforts to evade sanctions."
In response to the US threat, Turkish banks halted the use of the Russian payment system, followed by banks in Kazakhstan and Vietnam.
READ MORE: Turkish banks suspend use of Russian payment system
The Russian ambassador confirmed that "the work [on an alternative to Mir] is underway but it's too early to announce results," adding that the countries have to assess the prospects of the upcoming tourist season.
Earlier, the head of the Russian-Turkish Business Council Alexey Yegarmin revealed that an alternative payment system could emerge by summer.