The Republican hopeful has raked in $7.1 million since he was booked at an Atlanta jail on Thursday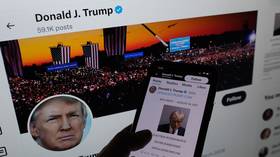 Former US President Donald Trump's mugshot on X (formerly Twitter), on August 24, 2023 © AFP / Chris DELMAS/AFP
Donald Trump's recent mugshot, which has already become iconic among his supporters, has also helped his campaign raise a record-breaking sum, according to Politico. The Republican frontrunner faces a plethora of charges and turned himself in at the Fulton County jail in Atlanta, Georgia, on Thursday.
On Saturday, the outlet reported that the former president had raised some $7.1 million since he had the photo taken by authorities.
Politico quoted an anonymous source as saying that Trump's campaign raked in $4.18 million on Friday alone – its single-highest 24-hour take to date.
Shortly after the Fulton County's Sheriff's Office released the mugshot, the former president's son, Donald Trump Jr., announced that he had launched a line of merchandise bearing the image and the tagline "NEVER SURRENDER!".
In a post on X (formerly Twitter), he said that all proceeds from the sale of T-shirts, mugs, and posters would go to the Legal Defense Fund "to fight the tyranny & insanity we're seeing before us."
On Thursday night, the Republican frontrunner posted a tweet of his own on X – his first since 2021 – directing supporters to his website. Its landing page features the mugshot and asks visitors to "make a contribution to evict Crooked Joe Biden from the White House and SAVE AMERICA during this dark chapter in our nation's history."
Biden fundraises off Trump arrest
After being booked on multiple charges relating to his alleged attempts to overturn the result of the 2020 presidential election, he was then released on a $200,000 bond.
Trump is the first former or sitting US president to have a police mugshot taken of himself.
Earlier this month, Fulton district attorney Fani Willis unsealed a 41-count indictment against the former president and 18 of his associates.
Trump stands accused of violating Georgia's organized crime laws, as well as conspiracy to interfere in an election, perjury, soliciting a public official to violate their oath, and other offenses.
This is the fourth criminal indictment the 45th US president has faced since the start of the year.
Federal prosecutors have already slapped him with dozens of felony counts, alleging he plotted to interfere in the 2020 elections, mishandled classified documents after leaving the White House in 2021, and paid hush money to porn actress Stormy Daniels during his 2016 election campaign.
Trump has repeatedly denied any wrongdoing and described the charges as a politically motivated witch hunt designed to prevent him from running for president in 2024.