NOVANEWS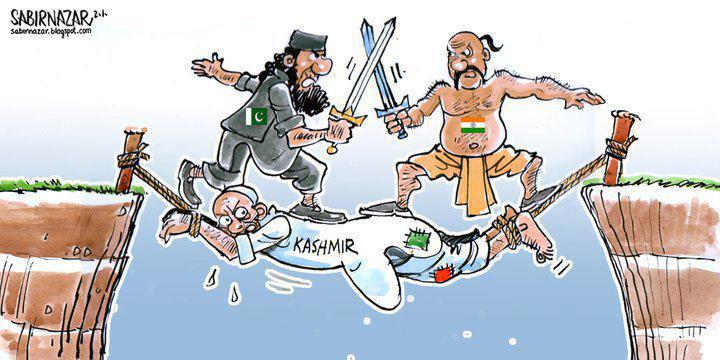 Kashmir has been plunged into yet another cycle of massive civilian protests met with brutal state repression that claimed 32 lives till now and severely injured many more. The crisis has been precipitated this time by the killing of a young militant, Burhan Wani. Wani had been a popular figure in Kashmir, adept in addressing youth on social media. Vast numbers of Kashmiri people gathered to mourn at his funeral. Mourners and protesters alike are being subjected to repression by paramilitary forces on Kashmir's streets, in a repeat of the events of 2010, when 112 civilian protesters were killed in a period of four months.
There are many unanswered questions about Burhan Wani's killing. The Supreme Court's recent order, reiterating that every encounter must be subjected to criminal investigation and prosecution, whether the person killed is a militant or a civilian, ought to be respected and followed here. But Burhan Wani's killing also raises other questions about the Indian State's policy vis a vis Kashmir. In 2010, on the heels of the spate of killings of civilian protesters, Wani and his brother and friends were subjected to a casual, brutal beating by security forces. Such humiliations are part of the daily experience of most Kashmiris, as a result of the military and paramilitary deployment in civilian areas. Months after the beating, the 16 year-old Wani left home to join a separatist outfit and emerge as a well-known face of the Kashmiri insurgency. In Kashmir, youth who do not take up arms and engage only in street protests, are routinely killed or maimed by security forces. By choking off all spaces for peaceful resistance and delegitimising even seminars and slogans that reflect Kashmiri sentiments, by routinely cracking down on internet services, and subjecting youth to brutal, arbitrary beating even when they are not protesting, the Indian establishment itself is creating the soil in which militancy takes root. Moreover, Wani was not charged with participating in any specific instance of terrorism, and is on record assuring that Amarnath pilgrims would not be attacked and appealing to Kashmiri Pandits to return to the Valley. There could have been many ways of engaging youth like him – and separatist organisations like his – in talks about Kashmir's political future rather than killing them.
What the Central Government and the BJP-PDP Government in J&K are unable to reckon with is the scale of the spontaneous civilian mourning and protests that have broken out following Wani's killing. Attempts to blame the protests on instigation by Pakistan, and justify the killing of Wani as well as the repression on civilians as a war on terror, only point to the colossal political failure of the Governments to engage respectfully with the voices and aspirations of Kashmiri people. Kashmir is primarily a political issue calling for a political solution that is in keeping with the wishes of the Kashmiri people, their self-respect and dignity.
The Sangh Parivar and BJP have for long vitiated the discourse on Kashmir by demanding abrogation of Article 370. But even the Congress and the UPA, that stood by Article 370, had much the same militarised policy towards Kashmir. Both Congress and BJP-led governments at the Centre have insisted on tame state governments in J&K, have branded every instance of Kashmiri mass resistance and protests as 'instigated by Pakistan', and unleashed brutal repression on such protests. The NCP leader Omar Abdullah has been blaming Chief Minister Mehbooba Mufti for her failure to stop the killings of civilians – forgetting perhaps that he himself presided over a spate of such killings in 2010 when he was Chief Minister. The fact that the NCP and PDP utterly fail to command any credibility, trust and respect among Kashmir's people is brought home by the fact that the Chief Minister, Ministers and elected MLAs are yet to feel confident enough even to meet the injured in hospital and the families of the victims!
The coverage of the crisis in Kashmir by influential sections of the Indian media is a recipe for further alienation of the Kashmiri people. Any calls for restraint, for sympathy with Kashmir's grief and rage, for Supreme Court-mandated enquiries into encounter killings, are equated with 'support for terrorism' or 'support for Pakistan.' The question of the killings of civilian protesters and use of pellet guns to blind scores of protesters is either rendered virtually invisible. The political issues are obscured and Kashmir is seen entirely through the prism of 'Pakistan-sponsored terrorism.'
Indian leaders talk now and then of 'winning the hearts and minds of the Kashmiri people'. PV Narasimha Rao had promised that 'the sky is the limit' in talks with separatist groups on Kashmir. Vajpayee had, in response to a question about whether talks with separatist groups would take place 'within the scope of the Indian Constitution', had countered that they would take place 'within the scope of humanity.' But such promises seem to have remained in the domain of phrase-mongering. The average Kashmiri finds that far from the 'sky' being the limit, political self-expression of Kashmiris on the question of self-determination is pushed underground. Rather than talks 'within the scope of humanity', the template for dealing with Kashmiri resentments, mournings and protests remains within the grim and inhuman scope of pellets and bullets. It is of course, asserted that 'Kashmir is an integral part of India', but the Kashmiri people are subjected to brutalisation and humiliation on a scale and intensity that few other parts of India have experienced. Above all, the Indian establishment as well as most political parties and the media, fail to display even the most basic respect for Kashmiri sentiments and aspirations.
It is urgent for the democratic-minded Indian citizens to open their hearts and minds to the voices of Kashmiri people, and to tell Indian Governments at the Centre and State that the brutal military handling of Kashmiri resistance must stop. To create a conducive climate where a genuine dialogue on solutions for Kashmir can be discussed where Kashmiri people can freely express themselves and be heard with respect, it is a must for the AFSPA to be withdrawn, and or all encounters and alleged rapes by security forces to be subjected to credible and timely investigations. The right of Kashmiris to a political solution in keeping with their wishes and sense of autonomy and dignity, must be articulated strongly not just in Kashmir but in every corner of India.