NOVANEWS
American professor of international affairs at Harvard University's John F. Kennedy School of Government, Stephen M. Walt has joined the growing list of public figures to openly identify the Jewish Lobby as being responsible for America's "morally bankrupt" foreign policy in supporting Israel while it murders Palestinian civilians.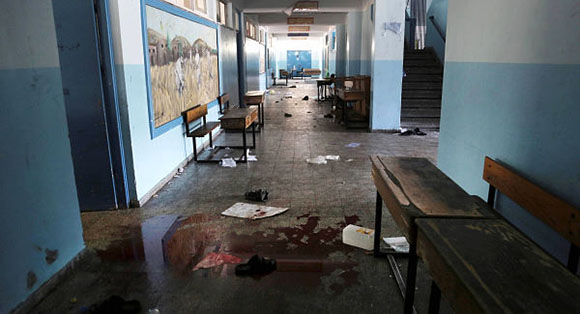 At least 15 people were killed when Israeli fire hit a UN-run school in Gaza. Emergency services spokesman Ashraf al-Qudra said around 200 people were injured in the strike on the school run by the UN agency for Palestinian refugees (UNRWA) in the northern town of Beit Hanun. An AFP journalist at a nearby morgue said the bodies arriving from the scene included a mother and her one-year-old baby. UN Secretary General said Ban Ki-Moon said UN staff were among the dead and injured in the shelling of the school.
Walt, who is best known—and hated—by the Jewish lobby for his book The Israel Lobby and U.S. Foreign Policy which he coauthored with John Mearsheimer, has never been shy to speak out about the influence of the Jewish lobby before, but the latest series of outrages—which include the bombing of a UN school in Gaza which killed 15 civilians and injured more than 200—has clearly provoked Walt and others into openly blaming the Jewish Supremacists.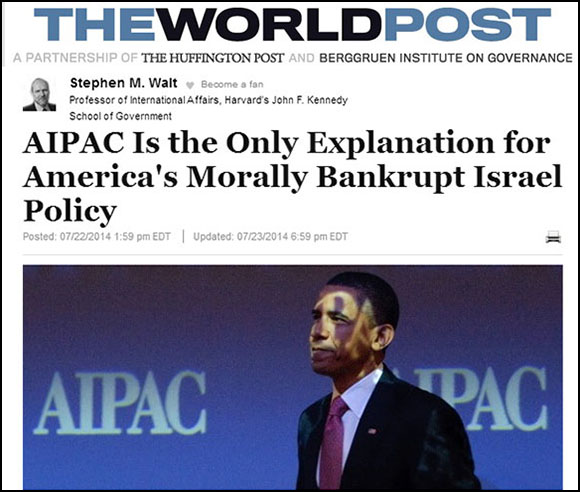 In an article published in the Huffington Post, Walt boldly declared that "AIPAC Is the Only Explanation for America's Morally Bankrupt Israel Policy," he went on:
The official name for Israel's latest assault on Gaza is "Operation Protective Edge." A better name would be "Operation Déjà Vu."
As it has on several prior occasions, Israel is using weapons provided by U.S. taxpayers to bombard the captive and impoverished Palestinians in Gaza, where the death toll now exceeds 500.
As usual, the U.S. government is siding with Israel, even though most American leaders understand Israel instigated the latest round of violence, is not acting with restraint, and that its actions make Washington look callous and hypocritical in the eyes of most of the world.
This Orwellian situation is eloquent testimony to the continued political clout of AIPAC (American Israel Public Affairs Committee) and the other hardline elements of the Israel lobby.
There is no other plausible explanation for the supine behavior of the U.S. Congress—including some of its most "progressive" members—or the shallow hypocrisy of the Obama administration, especially those officials known for their purported commitment to human rights.
Walt went on to point out the real reasons for the Zio-murder machine's attack on Gaza:
And why did Netanyahu decide to go on another rampage in Gaza? As Nathan Thrall of the International Crisis Group points out, the real motive is neither vengeance nor a desire to protect Israel from Hamas' rocket fire, which has been virtually non-existent over the past two years and is largely ineffectual anyway.
Netanyahu's real purpose was to undermine the recent agreement between Hamas and Fatah for a unity government. Given Netanyahu's personal commitment to keeping the West Bank and creating a "greater Israel," the last thing he wants is a unified Palestinian leadership that might press him to get serious about a two-state solution. Ergo, he sought to isolate and severely damage Hamas and drive a new wedge between the two Palestinian factions.
Walt also pointed out that the real cause of the crisis in the first place is not, as the Jewish-dominated mass media lies, "Arab terrorism", but in fact Jewish terrorism, Jewish colonialism and the Zionist ethnic cleansing of Palestine:
Behind all these maneuvers looms Israel's occupation of Palestine, now in its fifth decade. Not content with having ethnically cleansed hundreds of thousands of Palestinians in 1948 and 1967 and not satisfied with owning eighty-two percent of Mandatory Palestine, every Israeli government since 1967 has built or expanded settlements in the West Bank and East Jerusalem while providing generous subsidies to the 600,000-plus Jews who have moved there in violation of the Fourth Geneva Convention.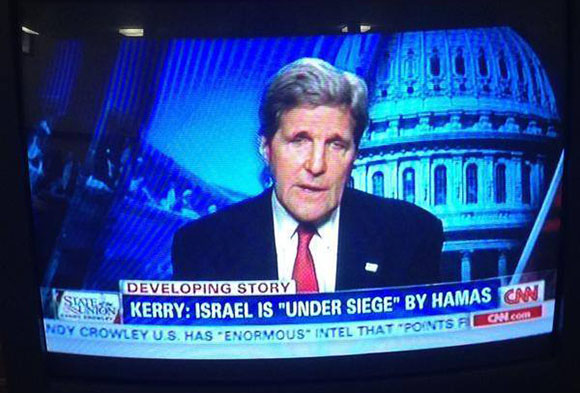 "Israel under siege"– actually, Gaza is under siege by Israel. This is the conflict in Palestine, as seen through the Jewish goggles of John Kerry-Cohen and the Jewish Supremacist-controlled mass media.
Walt then goes on to say outright that the only reason why the US government continues to back Israel, is because of the malign controlling power of the Jewish lobby in Washington DC.
Meanwhile, U.S. politicians and policymakers continue to back a brutal military campaign whose primary purpose is not to defend Israel but rather to protect its longstanding effort to colonize the West Bank.
Yet as soon as fighting starts, and even if Israel instigates it, AIPAC demands that Washington march in lockstep with Tel Aviv.
Congress invariably rushes to pass new resolutions endorsing whatever Israel decides to do.
Even though it is mostly Palestinians who are dying, White House officials rush to proclaim that Israel has "the right to defend itself," and Obama himself won't go beyond expressing "concern" about what is happening.
The explanation for America's impotent and morally bankrupt policy is the political clout of the Israel lobby.
Barack Obama knows that if he were to side with the Palestinians in Gaza or criticize Israel's actions in any way, he would face a firestorm of criticism from the lobby and his chances of getting Congressional approval for a deal with Iran would evaporate.
Similarly, every member of the House and Senate—including progressives like Senator Elizabeth Warren—knows that voting for those supposedly "pro-Israel" resolutions is the smart political move.
They understand that even the slightest display of independent thinking on these issues could leave them vulnerable to a well-funded opponent the next time they're up for re-election.
The lobby is still able to keep roughly $3 billion in U.S. aid to Israel flowing each year; it can still prevent U.S. presidents from putting meaningful pressure on Israel; and it can still get the U.S. to wield its veto whenever a resolution criticizing Israel's actions is floated in the U.N. Security Council.