The allies' warplanes took to the air as a show of force, Seoul says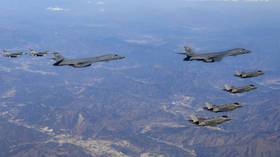 South Korean and US jets accompanying American B-1B bombers strategic bombers. © AFP / South Korean Defense Ministry
South Korea and the US staged combined air drills on Sunday, a day after North Korea fired a long-range ballistic missile into the sea, the Joint Chiefs of Staff (JCS) in Seoul have said.
As part of the exercise, South Korean F-35A and F-15K fighters, and US F-16s escorted American B-1B aircraft entering the South's air defense identification zone, the JCS said. It didn't specify how many B-1B strategic bombers were involved.
Some ten aircraft were scrambled as part of the drills, according to Yonhap news agency. They flew in formation over the Yellow Sea, East China Sea and the southern part of South Korea.
"The training this time demonstrated the South Korea-US combined defense capabilities and posture featuring the alliance's overwhelming forces," Seoul said.
According to JCS, this latest aerial exercise affirmed the US' "ironclad" commitment to defending South Korea, and its extended deterrence pledge, which calls on Washington to use all its military capabilities, including nuclear weapons, in case of an attack on its allies.
 Pyongyang fires missile ahead of US-South Korea military drills
Earlier in the day, North Korea confirmed that it had fired its Hwasong-15 intercontinental ballistic missile on Saturday, the first such test since January 1.
The "surprise" launch exercise was carried out on the order of country's leader Kim Jong-un, Pyongyang's state-run KCNA news agency reported.
The test confirmed North Korea's ability to launch a "fatal nuclear counterattack on the hostile forces" and became "clear proof of the sure reliability of our powerful physical nuclear deterrent," it said.
The missile landed about 200 kilometers (125 miles) west of the coast of the Japanese island of Oshimo, with Tokyo describing the move by North Korea as "an act of violence that escalates provocation towards the international order."
The test followed promises by Pyongyang to come up with an "unprecedentedly persistent, strong" response to upcoming joint drills by South Korea and the US. It's planned that this week's computer-simulated exercises on tackling a North Korean nuclear threat will be followed by Freedom Shield, the major wargames between the allies planned for March.
READ MORE: North Korea warns of 'unprecedented' action
Pyongyang had earlier vigorously protested those exercises, calling them a "dress-rehearsal" for a full-scale invasion of North Korea.