Western pressure on Belgrade will drastically increase as the Ukraine conflict escalates, the Serbian president said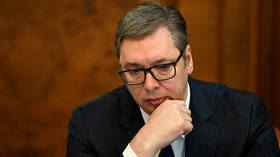 Serbia's President Aleksandar Vucic attends a government cabinet meeting. © AFP / Andrej Isakovic
The moment is approaching when Serbia will have no choice but to give in to Western demands to sanction its long time friend Russia, its President Aleksandar Vucic has warned.
In an interview with Prva broadcaster on Friday, Vucic said he expects "a major escalation" in the conflict in Ukraine over the next six months. The fighting to date will feel like "almost nothing, compared to what's coming," he warned.
This situation "will affect our country as the pressure on Belgrade, in terms of its relations with Russia, will become two or three times tougher – despite already being very strong now," the president said.
Sanctioning Moscow over its military operation in Ukraine and recognizing the independence of the breakaway province of Kosovo have been singled out by Brussels as key conditions for Belgrade's bid to join the EU.
Vucic, who has been rejecting both demands for months, now says the moment may eventually come when Belgrade would have to join the EU's curbs on Moscow.
 Serbia responds to 'cancel-Russian-culture' calls
"Let us push like this as long as we can, I will know when the moment is right, and I will not hide anything from people. That moment [when Serbia sanctions Russia] has been approaching for a long time, I am afraid that it's not even months away," he said.
The Serbian president revealed that he used to believe that the West, which is backing the Kiev government with weapons, funds and intelligence, was getting the upper hand in Ukraine. However, "at this moment, it's no longer entirely clear who is winning in Ukraine," he added.
Moscow's chances of succeeding have been boosted by the fact that there is now "unity" among the Russian people regarding the conflict, especially after the announcement by Berlin and some other countries last month that German-made Leopard tanks would be supplied to Kiev, he said.
According to Vucic, it'll be "difficult" for Serbia no matter who prevails in Ukraine. "The West doesn't want a country allied with Russia in the middle of Europe. On the other hand, Russia doesn't want to lose everything it has in the Balkans," he said.
READ MORE: Serbia urged to align with EU
That's why Belgrade remains among the few international players who speak about the need for a diplomatic solution to the crisis, but "no one is allowed to mention peace anymore," he stated.