Seaborne crude flow hit an eight-week high despite sanctions and production cuts, tanker-tracking data shows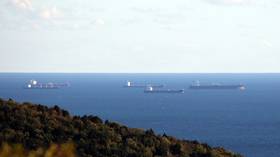 © Sputnik / Vitaly Timkiv
Russian crude shipments soared by an average of 880,000 barrels per day (bpd) in the week to August 27, amounting to 3.4 million bpd, tanker-tracking data compiled by Bloomberg shows. The figure is reportedly the highest in eight weeks.
Data showed that less volatile four-week average numbers increased by 40,000 bpd. Shipments to Russia's Asian customers, including those showing no final destination, rose to 2.57 million bpd during the reporting period, from 2.53 million bpd in the period to August 20. The report indicated that most of the cargoes on ships without an initial destination eventually end up in India.
Meanwhile, Russia's seaborne crude exports to EU countries stood at 125,000 bpd in the 28 days to August 27, with Bulgaria the sole destination. No Russian crude was shipped to northern European countries in the four weeks to August 27, the outlet wrote, adding that exports to Russia's only remaining Mediterranean customer, Türkiye, were about 156,000 bpd during the period.
"Despite last week's jump, the figures support the notion that Moscow is now honoring a pledge to keep supply off the global market alongside its allies in the OPEC+ producer coalition," Bloomberg wrote.
The outlet cited Russian Deputy Prime Minister Aleksandr Novak, who said this month that Moscow would extend its export cut into September, following a similar announcement from Riyadh. The size of Russia's supply cut will be lowered to 300,000 barrels a day, from 500,000 barrels a day in August, according to Novak.
READ MORE: Western firms ignoring G7's Russian oil 'price cap' – Bloomberg
Russia has been diversifying its energy supplies in response to Western sanctions since the EU stopped accepting the country's oil transported by sea. In February, Russia pledged to voluntarily reduce oil production by 500,000 bpd starting from March. The move came in retaliation to sanctions, while Moscow also halted sales to buyers that comply with a Western-imposed price ceiling of $60 a barrel.