Moscow is concerned by the new Channels feature in the messaging app and for its potential uses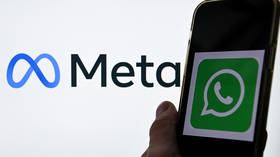 Instant messaging software Whatsapp's logo on a smartphone. © AFP / Kirill Kudryavtsev
WhatsApp might be blocked in Russia like Facebook and Instagram if the app's functions are expanded to make it more than simply a messaging platform, lawmakers in Moscow have warned.
All three platforms are owned by Meta, which was designated an extremist organization in Russia shortly after the outbreak of the fighting in Ukraine in February 2022.
As a result, Facebook and Instagram were banned in the country for allowing hate speech against Russian nationals and for distributing what was deemed false content about the conflict between Moscow and Kiev. WhatsApp avoided restrictions back then, being classed as solely a communication tool.
WhatsApp's announcement on Wednesday that its Channels feature, introduced in some places earlier this year, will be made available in 150 countries is a cause for "particular concern," Senator Viktor Bondarev, a member of the Federation Council, the upper chamber of the Russian parliament, wrote on his Telegram-channel on Thursday.
Instagram blocks journalist over link to RT
"Such a path in the development of the messaging platform might lead to its transformation into a means of information warfare," employed to disseminate false data about Russia or its military operation in Ukraine, he said. "Therefore, the introduction of mechanisms to combat those threats and the possible blocking of the messenger [app in Russia] shouldn't be ruled out."
According to Bondarev, who chairs the Federation Council's Defense and Security Committee, the exception that had been previously made for WhatsApp by Moscow has to be reviewed.
Russia should also follow the lead of China, which has its own WeChat app, and "think about a fully local messaging platform," the senator urged. Such a move would be "reasonable, timely and promising," he added.
Bondarev suggested that for now Russians should look for alternatives to WhatsApp such as Yandex, Messenger and Telegram, which he described as apps that are "friendly to the Russian information space."
The Senator's comments were echoed by a senior member of the Committee on Information Policy in the lower house, the State Duma, Anton Gorelkin, who also said that if WhattsApp "begins to expand its functionality towards mass dissemination of information, the official position regarding its activities in Russia may be revised."
READ MORE: Telegram gaining 2.5 million users a day – Russian founder
In its blog post, WhatsApp described the Channels update as "a one-way broadcast tool for admins to send text, photos, videos, stickers, and polls" to their followers. The platform has invited celebrities, sports teams, artists, creators and "thought leaders" to take advantage of the new feature.