An improved forecast echoes IMF predictions that Russia will outpace Germany and the UK in 2023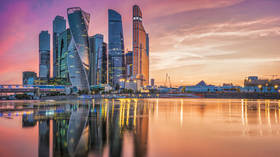 © Getty Images/David Mrosek
Russia's economy is set to grow again in the middle of the year, the Central Bank announced on Friday as it revised its latest forecast upwards. The outlook is much better than many had anticipated.
Speaking to reporters, Russian Central Bank governor Elvira Nabiullina said that the better-than-expected GDP forecast is due to the upwards revision of previous estimates and "more significant budget expenditures than were taken into account in our October forecast."
Signs of Russia's economic recovery emerged at the end of last year with GDP showing positive dynamics in the third and fourth quarters, the regulator noted.
"If we talk about annual indicators, in our opinion, GDP will move into positive territory in the middle of the year. As for the overall GDP estimate for this year, we give a symmetrical range of -1% to 1%," Nabiullina said.
READ MORE: Record investment helped Russia survive sanctions – Bloomberg
Russia became the target of sweeping Western economic sanctions last year, designed to pressure Moscow domestically and internationally by disrupting its trade relations and supply chains. The restrictions included measures to cut off the Russian Central Bank from the international financial system, blocking its access to billions of dollars in overseas assets. A number of the largest Russian banks were expelled from the global financial messaging system SWIFT.
Meanwhile, the Central Bank's improved outlook echoes a forecast from the International Monetary Fund (IMF), which also expects Russian GDP to grow in 2023 after contracting by 2.2% last year. According to the IMF, Russia will outpace Germany and Britain, with its economy expanding by 0.3% this year, and then by 2.1% in 2024.