Posted by: John Phoenix
The move comes after a video surfaced online, apparently showing a war crime, filmed by a gunman speaking Ukrainian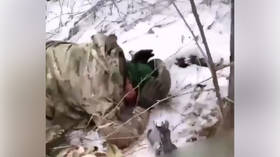 © Social network
Russian investigators have launched a probe into the alleged killing of prisoners of war, after an extremely graphic video emerged on social media, purportedly showing a Ukrainian fighter shooting soldiers.
The Investigative Committee said on Thursday that the footage appeared to show the murder of three Russian POWs by "Ukrainian nationalists." The agency pledged to identify the perpetrators.
The 30-second clip, which surfaced online earlier this week, was filmed from the point of view of an armed person speaking Ukrainian in an agitated tone. He can be heard demanding answers from people in military uniforms, lying on the snow-covered ground.
Apparently frustrated with the lack of a coherent answer, the man fires several rounds at the head of one of the captives, before switching his attention to another. A third uniformed person can be seen motionless on the ground with blood next to his head.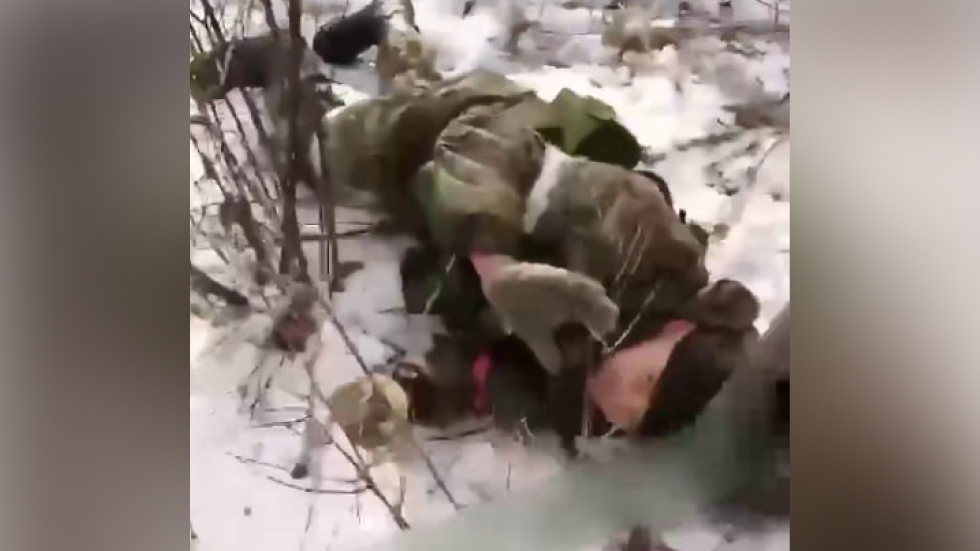 © Social network
A fellow fighter is present at the scene, and appears to be trying to calm the gunman down, as he insists that the second captive has a grenade. The clip ends with the shooter declaring "Slava Ukraini!" and adding an obscenity. The Ukrainian nationalist slogan, which translates as 'glory to Ukraine', has been widely adopted by the Ukrainian military and wider society since the 2014 armed coup in Kiev.
Viktoria Serdyukova, the human rights ombudsman for the Lugansk People's Republic, said the footage served "as another confirmation that cold-blooded killers are fighting against us". She urged international organizations to probe the incident.
 Videos showing executed Russian POWs in Ukraine are authentic – NYT
It is unclear when or where the video was shot, and who the people in it were. Several videos apparently depicting the torture and murder of Russian POWs by Ukrainian troops have emerged since the hostilities started in Ukraine, some of which have been authenticated by Western media.
According to the Russian Defense Ministry, the killing of unarmed, surrendered soldiers is a "widespread practice" by Kiev's troops.
Ukrainian officials defended their soldiers' actions after a particular incident came to light in November. The footage showed Russian military personnel lying in a row on the ground after apparently being shot by Ukrainian captors.
Kiev claimed that the Russian soldiers were killed lawfully after an attempted perfidy – an act of faking surrender with the intention of attacking the other side by surprise. Critics have said the narrative did not fit the injuries, as the killed troops appeared to be shot in their heads.