Moscow can share its Armata tracked platform with New Delhi, the deputy director of the military cooperation agency has said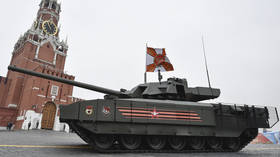 FILE PHOTO: A Russian T-14 tank during a Victory Day in Moscow, 2019. © Alexander Nemenov / AFP
Moscow is ready to provide technology for India's new tanks, Vladimir Drozhzhov, the deputy director of the Russian Federal Service of Military-Technical Cooperation (FSVTS), said on Tuesday. According to Drozhzhov, Russia can share its advanced Armata modular tracked platform with India.
"The Russian side is planning to participate in joint development of the Indian main battle tank with the use of modern Russian technology," Drozhzhov told RIA Novosti news agency at the Aero India 2023 expo in Bangalore.
He added that India plans to launch an international tender for the new tank.
Indian media reported last year that New Delhi was seeking to procure tanks under its Future Ready Combat Vehicle project in order to replace the aging fleet of Soviet-designed T-72s.
READ MORE: India's defence spending reaches a crossroads: Will New Delhi buy Russian or American weapons?
The Armata platform serves as a base for Russia's T-14 heavy tank and the T-15 armored infantry fighting vehicle (AFI). The same modular technology can be used for other hardware, including self-propelled howitzers. The Armata tanks and AFIs were first shown to the public in 2015.
The T-14 is equipped with a 125mm gun mounted on an unmanned turret. According to several reports, the tank has been used in Russia's military operation in Ukraine.
Moscow and New Delhi have worked together in the past to design India's BrahMos medium-range supersonic cruise missile.