Authorities are discussing the measure in response to the ruble's fall, the media outlet has reported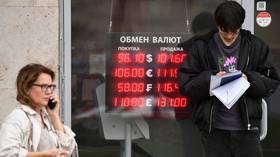 © Sputnik / Sergey Pyatkov
The Russian authorities are considering partial capital control measures to stem the ruble's slide, Bloomberg has reported citing four unnamed sources familiar with the discussions.
The proposal to mandate sales of export revenues was reportedly debated between the government and exporters on Monday with no breakthrough reached. Another meeting was set to take place later this week.
On Monday, the ruble sank to a 16-month low against major currencies, reaching 101 versus the US dollar, and 111 against the euro. The Russian currency strengthened after the central bank hiked the key interest rate to 12% from 8.5% on Tuesday, but later gave up some of the gains.
Last year, the Russian authorities introduced strict controls on capital movement, including the mandatory sale of 80% of forex earnings, in response to Ukraine-related sanctions introduced against the country by the West. Exporters were required to sell foreign currency credited to their accounts with authorized banks in the amount determined by a presidential decree. 
READ MORE: Ruble hits over 100 to US dollar
In order to expand the ability of exporters to manage foreign currency liquidity, the CBR later decided to ease the requirement for the mandatory sale of foreign currency to 50%. The regulator took more steps toward liberalizing the currency regime, scrapping all the restrictions.
The ruble was trading around 97 to the dollar and 106 to the euro at noon local time in Moscow on Wednesday.