NOVANEWS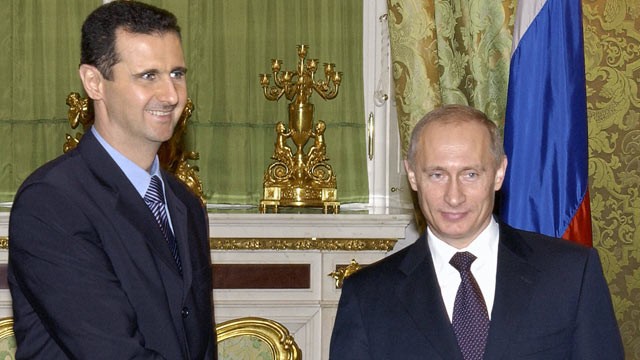 usnews.com
Russian warships docked at a naval base in Syria, according to reports on Wednesday, further separating Moscow from Western actions in the war-torn country.
The two ships made a rare call at the port in Tartus, Russia's only remaining international military base since the Soviet Union collapsed, according to 

AFP

 and 

Interfax

 reports. Russian authorities claim the stop was only to load fuel and water and make "minor repairs." This is the second time the Russian Navy has raised eyebrows in recent weeks, following reports that it 

docked warships off the coast of Gaza

 in late November, during the 

height of the fighting there with Israel

.
This most recent maneuver comes amid a new NATO decision to send Patriot missiles to Turkey, and sharpens the divide between Russia's history of supporting the Syrian regime and pressure on the West to back the opposition fighters.
The presence of the navy ships has three purposes, says Michael Weiss, cochair of the Russian Studies Center at the Henry Jackson Society, a London-based foreign policy think tank. Russia wants to run weapons and materiel into Syria, take Russian nationals out of the country, and send a signal to the United States that it still backs Syrian President Bashar al-Assad.
"They have military advisers helping the regime — a claim I cannot corroborate but absolutely believe," Weiss says. "But nonessential diplomatic staff and probably a lot of bi-nationals will leave."
The vessels are the landing ships Novocherkassk and Saratov,Interfax reports, assigned to Russia's Black Sea Fleet. Moscow sees Tartus as a major strategic asset, according to AFP, and refers to it as a "point of material-technical supply," rather than a base. It is too shallow for large ships to dock.
This most recent move is consistent with Russia's likely intentions at Gaza, Weiss says, though it is less of threat than an indication of the former superpower's crumbling infrastructure.
"Frankly, it's amazing that those ships can reach Gaza at all," he says, adding the U.S. Sixth Fleet had to accompany the aircraft carrier Admiral Kuznetsov when it last sailed for Tartus in case it sunk.
More than 40,000 have been killed by the fighting in Syria since it began in early 2011.
Turkey has pushed for NATO to supply it with Patriot missiles along its border with Syria to deter regime forces from continuing their aerial and rocket barrages. U.S. News reported Tuesday that Assad, now cut off from forces outside Syria, will likely turn to 

ground-to-ground missile attacks

 to try to repel opposition fighters who have surrounded the capital city.