NOVANEWS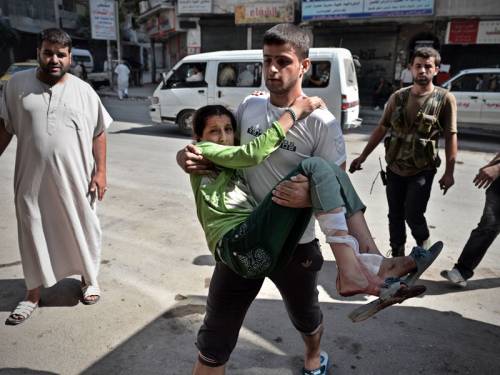 dailystar.com.lb
A handout picture released by the Syrian opposition's Local Coordination Committees of Syria (LCC Syria) on August 26, 2012 shows bodies lying in a mass grave who activists said were killed by regime forces in Daraya near Damascus. (AFP PHOTO/HO/LCC SYRIA)
MOSCOW: Russia on Wednesday called for an impartial investigation into the latest "barbaric" violence near Syria's capital Damascus, where hundreds of deaths have been reported since the weekend.
"We insist on a meticulous and impartial investigation into the circumstances of the latest tragic events" using the resources of the United Nations' newly-opened office in Damascus, the Russian foreign ministry said.
The ministry specifically cited the discovery of several hundred bodies near the Damascus suburb of Daraya on Sunday, and a deadly bombing at the funeral of two loyalists of President Bashar Assad's government on Tuesday in the town of Jarmana.
The watchdog Syrian Observatory for Human Rights said 320 people had been killed in the five-day onslaught on Daraya by government troops, while 27 people died at the funeral bombing.
"Moscow decisively condemns these barbaric acts of violence," the ministry said in a statement.
It added that there was "no alternative" to the peace plan of Kofi Annan despite his resignation from the post of U.N.-Arab League envoy over the plan's apparent failure.
"Without doubt, certain interested forces do not abandon their attempts to escalate tensions in Syria even more, disrupting any steps toward political regulation," it said, without detail.
Russia has resisted pressure to support outside intervention against the Syrian regime to the criticism from Western leaders, throwing its support behind the Annan plan and calling for dialogue between the warring sides.
It has also refused to join other powers in calling for Syrian President Bashar Assad's resignation but is stepping up its calls on his government to undertake more serious efforts at peace talks.
Moscow has accused the United States and its allies of seeking to oust the current regime, Moscow's closest Middle East ally, a trading partner and the host of a Russian naval base in the eastern Mediterranean.