NOVANEWS
Calls grow for Fifa to take decisive action as human-rights group prepares to release report on mounting death toll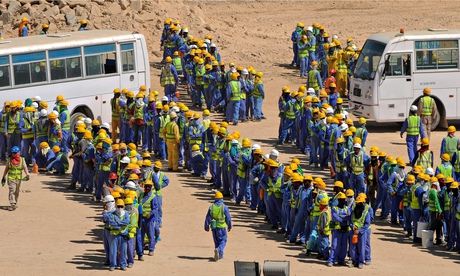 Migrant workers queue up for buses back to their accommodation, at the end of construction shifts in Qatar. Photograph: EPA
More than 400 Nepalese migrant workers have died on 
Qatar

'
s building sites as the Gulf state prepares to host the
World Cup
 in 2022, a report will reveal this week.
The grim statistic comes from the 
Pravasi Nepali Co-ordination Committee

, a respected

human rights
 organisation which compiles lists of the dead using official sources in Doha. It will pile new pressure on the Qatari authorities – and on football's world governing body, 
Fifa
 – to curb a mounting death toll that some are warning could hit 4,000 by the time the 2022 finals take place.
It also raises the question of how many migrant workers in total have died on construction sites since Qatar won the bid in 2010. Nepalese workers comprise 20% of Qatar's migrant workforce, and many others are drafted in from countries such as India, Bangladesh, Pakistan and Sri Lanka.
A focus on the Nepalese deaths has seen Fifa and Qatar battling a PR crisis that threatens to cast a long shadow over the event. Last week, appearing before EU officials, Theo Zwanziger, a senior Fifa executive who has publicly criticised the decision to award the tournament to Qatar, pledged that his organisation would be carrying out "on-the-spot visits" to ensure that workers' rights were being respected.
But the promise is unlikely to reassure human rights organisations and labour groups, which have raised repeated concerns about Qatar's 
kafala 
employment system, under which migrant workers are tied to their "sponsor" employers.
Qatar's World Cup authorities recently issued 
detailed guidelines
 that they hope will address concerns about their employment laws. The 50-page report, Workers' Welfare Standards, provides a breakdown of the guidelines that 2022 organisers expect contractors and sub-contractors to observe. But this has not stopped the death toll rising, nor continuing international criticism.
Jim Murphy, Labour's shadow international development minister,, who is expected to visit Qatar soon, raised the issue again this week. 
Writing in the Guardian, Murphy said
: "People don't have to die to bring us this or any other World Cup or sporting event; not a single worker died building the sites for the London 2012 Olympics. According to the International TUC, the 2022 World Cup risks 4,000 lives."
The continued criticism will prove embarrassing for Qatar as it prepares for 
a visit from Prince Charles

.
The symbolic total of 400 deaths, which the 
Observer 
understands will be confirmed in the next few days, will also invite questions not only about working conditions on sites but also about the treatment of construction workers.
The 
Observer 
has learned of the horrific case of Noka Bir Moktan, a 23-year-old who was said to have died of "sudden cardiac arrest" in October 2013, although photos of his corpse show he suffered a collapsed chest, apparently consistent with ill-treatment.
Moktan's family come from a poor village in Nepal's remote hill district of Ilam. His elderly father borrowed 175,000 rupees (about £1,000) to pay for his passage and agency fees to Qatar, in the hope that he would be able to send some of his earnings home. The money, was borrowed from a loan shark and was supposed to be reimbursed by Moktan's Qatari employer, but this did not happen. The family now fear that the loan shark will demand that Moktan's two sisters, aged 14 and 16, who were collateral for the loan, be sent to work in brothels in Mumbai to pay off the debt.
Moktan's tragic case is far from untypical. Last November, 
Amnesty International issued a report
warning that many workers were complaining about poor health and safety standards, including some who said they were not issued with helmets on sites. A representative of Doha's main hospital stated that more than 1,000 people were admitted to its trauma unit in 2012 having fallen from heights at work.
Researchers also found migrant workers living in squalid, overcrowded accommodation with no air-conditioning and overflowing sewage. Several camps lacked power and researchers found one large group of men living without running water.
"It is simply inexcusable in one of the richest countries in the world that so many migrant workers are being ruthlessly exploited, deprived of their pay and left struggling to survive," Salil Shetty, secretary general of Amnesty International, said at the time the report was published.
Some have gone as far as to call for Qatar to lose its right to host the tournament. But Zwanziger said such a move would be "counterproductive". He told the European parliament sub-committee on human rights that "it would simply mean that the spotlight would be put away from them".
• The headline, caption and introduction to this article were amended on 16 Feb 2014 to make it clear that 400 Nepalese workers have died on construction sites across Qatar, not just on World Cup sites