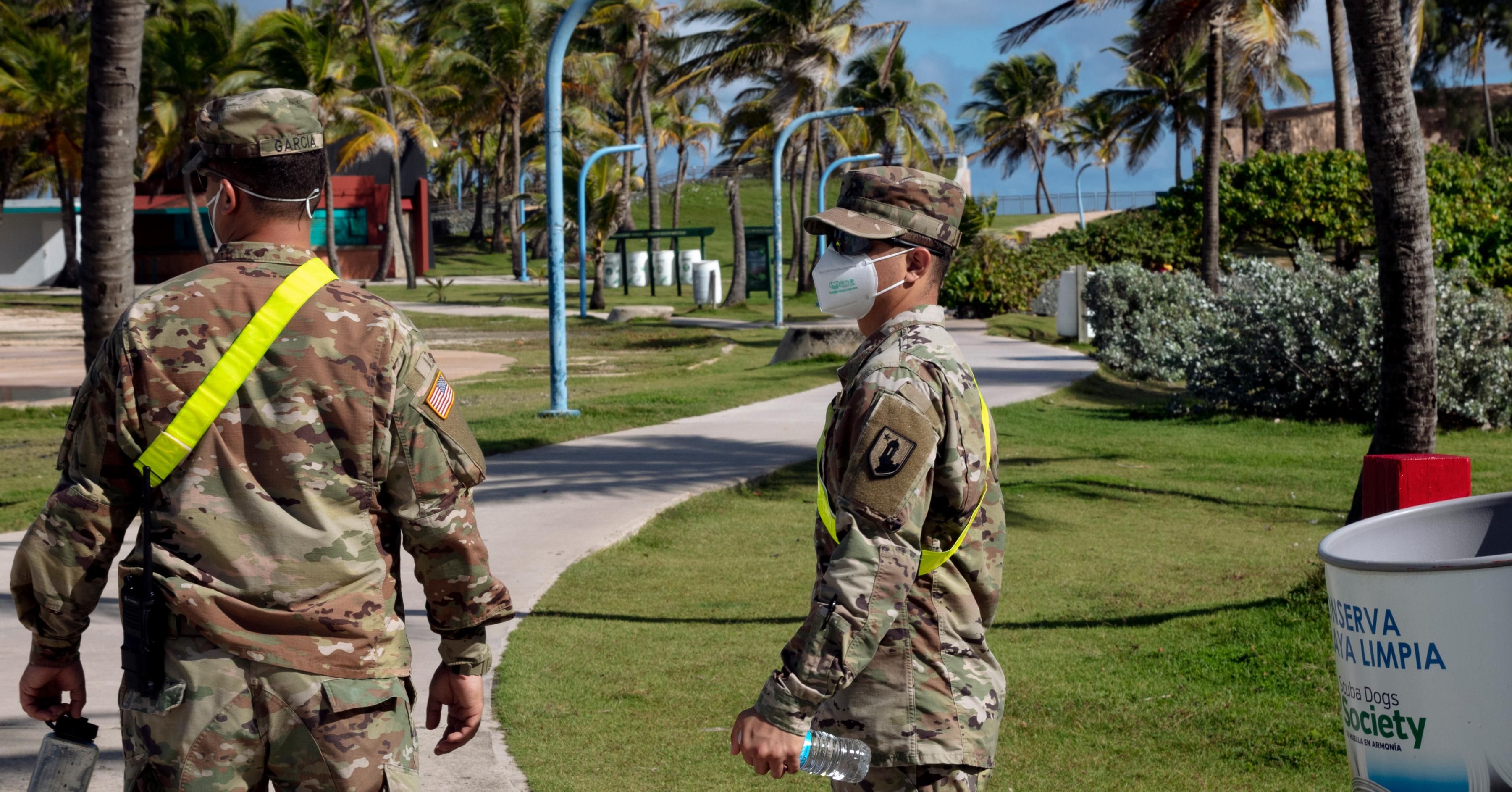 Two Puerto Rico National Guard members patrol the Escambron beach in San Juan, Puerto Rico on November 19, 2020. (Photo: Jose Jimenez/Getty Images).
The beaches belong to the people. They are not for sale.
As private interests eviscerate the public sector and vulture funds pillage Puerto Rico amid the debt crisis, there are few remaining bastions of public good on the island.
One of those remaining bastions are Puerto Rico's historically public beaches—spaces that many have sought to protect in recent years amid looming privatization. When scores of officers from the Puerto Rico Police Department (PRPD) converged on Los Almendros Beach in Rincón to ensure the rebuilding of a swimming pool, which Hurricane María reduced to rubble, it sparked widespread outrage among community members and activists alike. The renewed construction has threatened the nesting area of endangered sea turtles who use the beach to lay their eggs.
What followed this blatant display of militarized gentrification? Fierce, community-led resistance.
The rebuilding of the pool, which is in violation of the federal Endangered Species Act, reflects how private interests are attempting to restrict access to public spaces.
For days, community members engaged in a series of heated demonstrations. Many experienced repressive state violence and questionable arrests. Social media users indicated that, at times, there were between 50 and 100 PRPD officers at Los Almendros Beach. Videos depicted walls of armor-clad riot police confronting peaceful demonstrators who attempted to block the construction. Those in attendance chanted in solidarity and waved variations of the Puerto Rican flag—the traditional kind and an all-black rendition, which symbolizes resistance and civil disobedience.
Demonstrations caused the developers to temporarily halt the project, but the Sol Y Playa saga is far from over.
Impunity defines the PRPD
A 2012 report by the American Civil Liberties Union (ACLU) of Puerto Rico described the PRPD as being "plagued by a culture of unrestrained abuse and impunity."
Considering the police response in Rincón, it seems like this culture has endured.
Throughout the demonstrations, PRPD officers used excessive force against demonstrators on multiple occasions (e.g., here, here, and here). These acts of repressive state violence infringe upon the public's right to peaceably assemble and undermine democracy. They serve as a stark reminder of the department's continued resistance to reforms that would address its infamous legacy of impunity.
Instead of condemning the brutalization of demonstrators by the PRPD, Gov. Pedro Pierluisi lambasted the destruction of private property—specifically the collapse of a concrete wall that demonstrators tore down on July 24. Describing this show of resistance as nihilistic flies in the face of reality. The "destruction of private property," in this case, does not even come close to matching the harm caused by this somehow-legal private pool project.
Enterprising on extractivism
The rotten, extractivist core of private enterprise in Puerto Rico has been on full display in recent years.
Privatization has forced residents to pay more for essential services, and tax incentives have encouraged high-yield individuals to set up shop in Puerto Rico while austerity measures cripple the island's U.S.-dependent export economy. In light of this, the anti-privatization movement has sounded the alarm on efforts to privatize coastlines and maritime-terrestrial zones, which consists of patches of land that are vulnerable to flooding during hurricanes, tropical storms and other extreme weather events.
Yet, the Puerto Rican government has been measured in its response to the impending climate catastrophe, and it is easy to see where its priorities lie. Rather than initiate a sweeping effort to mitigate the effects of climate change, the state mobilized its militarized police force to quell demonstrations at Los Almendros Beach.
Beaches in Puerto Rico face another grave threat—erosion. Ecologists have suggested that regions like Rincón are especially susceptible to the effects of climate change because it largely consists of coastlines and maritime-terrestrial zones. Despite this susceptibility, there is still no moratorium on construction in these vulnerable areas across the island.
Mired in corruption
From the start of the private pool project, murmurs of corruption have been emerging on social media. Local news outlets like El Nuevo Día have sought to hold elected officials accountable through their reporting as well. Walter Pierluisi Isern, the governor's cousin, owns an apartment at Sol Y Playa.
"Some have suggested that the unusually large police presence at [the] private construction site is related to these personal relationships," Global Voices reported.
In May 2021, the Department of Natural and Environmental Resources (DNER) issued a cease and desist order that halted the construction of the private pool. That was at least until Rafael Marchago, director of the DNER, amended the order, which allowed the construction to continue. Global Voices noted that the "irregular way in which the administrative order was handled and Director Machargo's silence have given rise to rumors of corruption."
According to El Nuevo Día, an audit conducted by the Puerto Rico Planning Board found six alleged illegalities "in the processing of permits related to the construction," and determined that "agencies failed to assess the project's environmental impact."
Although developers paused the project by July 27, it didn't take long for them to press play.
On August 6, El Nuevo Día reported that developers and the DNER reached an agreement to continue rebuilding the pool outside the Sol Y Playa condominiums, doing so on one condition—developers must build a fence to prevent endangered sea turtles from nesting in the construction area. However, ecologists have asserted that this measure will not be sufficient to protect wildlife.
"They are reducing the habitat of sea turtles more and more. In Rincón, there is almost no sand for them to nest, in addition they are putting the lives of the people who live there with the coastal construction at risk," Robert Mayer Arzuaga, director of the Center for Ecological Conservation and Restoration at the University of Puerto Rico in Aguadilla, said in an interview with El Nuevo Día.
This construction is the latest iteration of encroachment by private enterprise on the island. Today, it's the rebuilding of a pool at Los Almendros, but tomorrow, it may very well be the mass privatization of public beaches in Puerto Rico—and that cannot be allowed to happen.
"The beaches belong to the people, the beaches belong to the people," a fearless crowd chanted near the Sol Y Playa condominiums on July 23.
"The people must act immediately and restore the protected habitat [that developers] destroyed," one demonstrator told Telemundo. "That is corruption and the people are tired of so much corruption."