Pro-Israel students pressure Butler U to cancel an event featuring Angela Davis
Angela Y. Davis
Students at Butler University say an event featuring Angela Davis was abruptly canceled by the school following pressure from Zionist students. This is not the first time Ms. Davis has been snubbed because of her advocacy for Palestinian rights.
by Michael Arria, reposted from Mondoweiss, March 31, 2021
Students at Butler University are demanding to know why an event featuring Angela Davis was abruptly canceled by the school.
The activist and author was scheduled to speak at an event called "Joint Struggle and Collective Liberation" on April 1st. On March 29, the school canceled the event without notifying the organizers of the event.
The school is blaming the cancellation on procedural errors, but a group of campus and community organizations put out a statement saying Davis was targeted over her BDS support. "Days before Butler University's shameless censorship of Dr. Angela Davis, the Student Government Association was bombarded by pressure from Zionist students who claimed to oppose Davis' event because of her support for Boycott, Divestment, and Sanctions (BDS) movement — a grassroots demand for nonviolent economic pressure against Israel's illegal military occupation of Palestine," the statement reads.

Haymarket [email protected]On March 29, without warning or discussion, Butler University administration canceled an event titled "Joint Struggle and Collective Liberation," a conversation with the revolutionary author, abolitionist and anti-racist activist Angela Davis.
An Op-Ed in The Butler Collegian by Roua Daas, who serves as the Director of Diversity, Equity, and Inclusion for the Student Government Association at Butler University, adds, "Simply put, Butler administrators are trying to silence marginalized voices in order to maintain systems of power and privilege."
This isn't the first time Davis has been attacked by pro-Israel groups and students. Just last month, a talk she gave for Northeastern University was condemned by Northeastern Hillel, a pro-Israel campus group. The group claimed that BDS was an "anti-semitic movement that seeks to discriminate against Israel and Jews.

Northeastern University [email protected]_HillelBelow, #Northeastern#Hillel Advisory Council's statement on Angela Davis speaking at Northeastern. Learn more about Dr. Davis: https://jns.org/civil-rights-organization-rescinds-award-from-pro-bds-activist-angela-davis… & https://heraldsun.com/opinion/article201776169.html…#AngelaDavis@StopAntisemites@CombatASemitism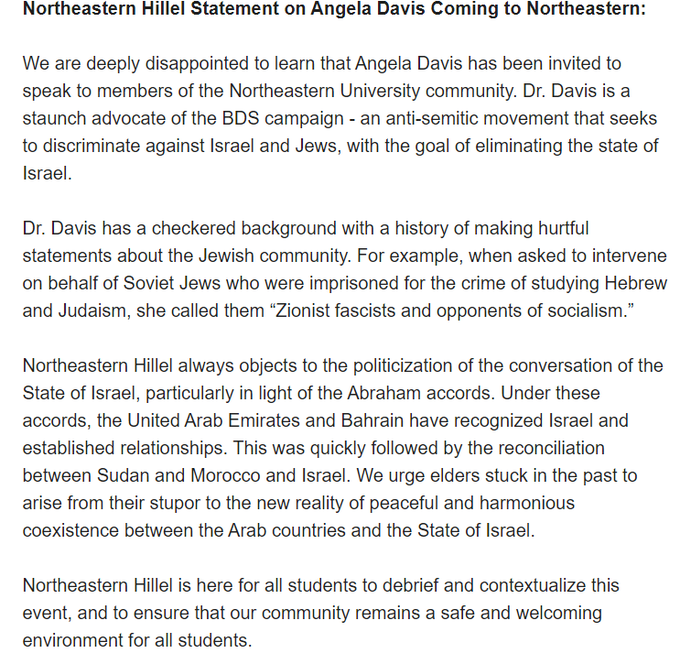 In 2019, the Birmingham Civil Rights Institute rescinded a human rights award that it planned to give Davis. In a statement, she said that the award had been revoked over her longtime support for Palestine. Birmingham Mayor Randall Woodfin said the decision had been made after "protests from our local Jewish community and some of its allies."
"Through my experiences at Elizabeth Irwin High School in New York City and at Brandeis University in the late fifties and early sixties, and my subsequent time in graduate school in Frankfurt, Germany, I learned to be as passionate about opposition to antisemitism as to racism," read Davis's statement at the time. "It was during this period that I was also introduced to the Palestinian cause. I am proud to have worked closely with Jewish organizations and individuals on issues of concern to all of our communities throughout my life. In many ways, this work has been integral to my growing consciousness regarding the importance of protesting the Israeli occupation of Palestine."
---
ESSENTIAL READING:
RELATED READING:
VIDEOS: