The Defense Secretary's tour of the region shows Washington's unwillingness to evolve.
Robert Inlakesh is a political analyst, journalist and documentary filmmaker currently based in London, UK. He has reported from and lived in the Palestinian territories and currently works with Quds News. Director of 'Steal of the Century: Trump's Palestine-Israel Catastrophe'.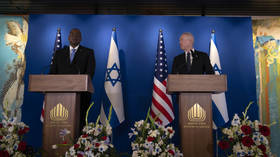 U.S. Secretary of Defense Lloyd Austin, left, and his Israeli counterpart, Minister of Defence Yoav Gallant make a joint statement following their meeting at Ben Gurion International Airport in Thursday, March 9, 2023. © AP Photo/Maya Alleruzzo
Ahead of anticipated regional escalations in the coming months, US Defence Secretary Lloyd Austin landed in the Kingdom of Jordan on Sunday, kickstarting yet another high-profile Middle East visit this year. Despite Washington's efforts to impose its agenda, its current approach may prove to be too out of touch to make a tangible difference.
The Pentagon Chief arrived in the Jordanian capital on a tour aimed at assuring regional allies of US policy commitments, despite the Biden administration's focus on combating Russia and China. Austin's visit was originally tailored to be geared towards visiting Tel Aviv, Cairo and Amman, but has also included a surprise visit to Baghdad.
The visit is the second high-profile US Middle East tour this year, with Secretary of State Antony Blinken also leading a delegation to the Holy Land in late January. Unfortunately for Blinken, his delegation's visit, which partially focused on calming tensions in the occupied Palestinian territories, has so far proven to have been a flop, with violence continuing to escalate in the West Bank.
Preventing an Israel-Palestine escalation
Austin faces a challenge ahead of what is expected to be a month of escalated violence in the occupied territories between the Israeli military and Palestinians during the Muslim Holy month of Ramadan, which begins at the end of March. Some of the stops on Austin's tour appear to be specifically tailored towards preventing this violence. The problem already presenting itself is the lack of a targeted focus on any key aim, combined with a disconnect from realities on the ground.
 Pentagon blocking information on alleged war crimes in Ukraine – NYT
The Hashemite Ruler of Jordan, King Abdullah II, holds legal custodianship over the Al-Aqsa Mosque and surrounding Muslim and Christian holy sites inside the Old City of Jerusalem. Provocations earlier this year, caused by Israel's Security Minister Itamar Ben Gvir's approval of an incursion into Al-Aqsa Mosque, sparked a verbal bout at a UN security council session convened to condemn any violation of the status quo. Despite Jordan's peace treaty and close security ties with Israel, there was enmity over al-Aqsa between the Jordanian ruler and Israeli Prime Minister Benjamin Netanyahu during former US President Donald Trump's time in office. If the situation deteriorates further this could challenge Israel-Jordan relations.
Jordan is also a close ally of the Palestinian Authority (PA) and plays an integral role in maintaining security coordination between the PA and Israeli security forces in the West Bank. A security summit in Aqaba, Jordan, in late February brought together delegations from the PA, Israel, Egypt and the US. The meeting focused on a US plan to help the PA's security forces re-establish control over the northern West Bank, and combat newly formed armed Palestinian groups in the area. The proposal, put forth by US Security coordinator, Michael Fenzel, aims at training a PA force in Jordan to counter the armed groups. However, the plan lacks an appreciation of facts on the ground, in particular popular dissatisfaction with the Palestinian Authority, and could prove counterproductive, by triggering an armed conflict between the groups and PA Security forces.
Austin's visit to Egypt could be integral in helping calm armed movements in the Gaza Strip, as Cairo plays a key intermediary role between Israel and the Hamas government. In addition, it is important to note that Qatar's Mohammed al-Emadi, responsible for coordinating aid grants to Gaza, visited the besieged coastal enclave on Monday specifically to discuss a new grant. Historically, Qatari aid, as well as Egypt's ability to ease the siege by opening the Rafah crossing, have been used as bargaining chips with Hamas, to prevent or end escalations with Israel. 
 Pentagon chief goes to Iraq prior to US invasion anniversary
However, in spite of attempts by neighboring Arab nations to prevent an escalation, the situation is almost entirely dependent upon Israel's approach towards the Palestinians. If aggressive measures are taken against Muslim worshippers around the Old City of Jerusalem, as is being suggested by prominent ministers in the Israeli government, this may not only trigger a reaction from Palestinians, but also tensions with Jordan. Depending upon how far things go, it may even isolate Egypt from Israel. This is why the US must drop its policy of unconditional support for Israel. Tel Aviv has historically seen a lack of consequences for its actions as a green light for aggression.
If we look at the US State Department's statement on Antony Blinken's visit, along with the focus of influential Washington based think-tanks, it becomes clear that the Biden administration is fixated on achieving an Israeli-Saudi normalization deal. Such a deal could be within reach. However, a failure to prevent an escalation in the coming months, especially around the al-Aqsa mosque issue, could seriously jeopardize the White House's desired result.
Old strategies in a changing region
The Pentagon chief's surprise visit to Baghdad on Tuesday was geared towards expanding US-Iraqi cooperation in the fight against Islamic State terrorists. The visit again demonstrates Washington's desperation to stick to the same policy approach it did in the past, namely of deepening the dependence of countries in the region on the US for security. Similarly, the US policy to bring Saudi Arabia under its wing has for years revolved around military backing for the Kingdom. The problem in this case is that the war in Yemen represents a US failure to actually protect Saudi Arabia. The inability of the Biden administration to end the war has resulted in the renewal of armed conflict along the Saudi-Yemen border.
Biden proposes largest military budget in history
Last month, Baghdad signed new oil and gas deals with two Chinese firms, along with the UAE's Crescent Petroleum. Saudi Arabia and Iran have also both formally applied to join the BRICS economic alliance in the last month. Attempts to isolate and protect Washington's Arab allies from Tehran haven't worked, and the Iranian government is only expanding its economic and military ties. It is also becoming increasingly clear that US and Israeli military technology is not the best way to deal with Tehran. Instead, dialogue and cooperation, something that Abu Dhabi is currently engaged in, is yielding better results.
The US withdrawal from Afghanistan in 2021 marked the beginning of a new era in the Middle East in terms of the way American power is expressed. Washington's ability to directly attack those it opposes in the region has been severely curtailed, resulting in it relying on proxy wars and attempts to stir chaos from within the civil societies of its target nations. The days of complete US dominance by force have ended, and the strength of regional forces opposing the US, resulting from Iran's military ingenuity, has created a new power balance.
For the US to maintain its role as a dominant power in the region, it must evolve in its approach, dropping the failed aggressor stance. It must also change its approach to Israel, as the current policy of never holding their ally accountable may jeopardize further normalization deals and destabilize the entire region further. Allowing Israel to repeatedly violate its own red lines on issues like the al-Aqsa mosque, settlement expansion and home demolitions, has made Washington a non-credible intermediary between Israel and the Palestinians. It has created a situation where a number of armed groups now play the role as representatives of the Palestinian quest for statehood.