NOVANEWS
Committee behind last weekend's protests says they were 'just the beginning', and calls for further marches on 5 June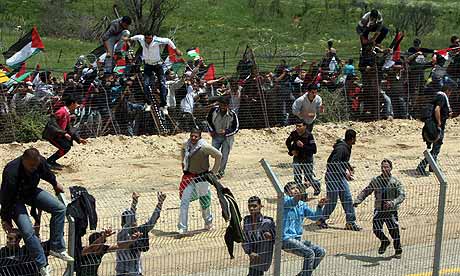 Palestinian protesters cross the Israel-Syria border. Photograph: Getty Images
Palestinian refugees are planning a fresh round of marches on 
Israel
next month, amid signs that grassroots protests could gain momentum from deep disillusion over the prospects for peace talks and the impact of the Arab Spring.
A committee behind 
demonstrations last weekend
, in which 14 people were killed on the Lebanese and Syrian borders, have called for further protests on 5 June to mark the anniversary of the 1967 Six Day War, during which Israel occupied the West Bank, Gaza, East Jerusalem and the Golan Heights.
The rallying call is likely to be given added impetus by Israel's rejection on Friday of Barack Obama's explicit backing for a Palestinian state based on pre-1967 borders.
The committee, which said last weekend's protests were "just the beginning", said thousands would march to the pre-1967 "green line" between Israel and the West Bank, the border with Gaza, the fence between the occupied Golan Heights and 
Syria
, and Israel's international border with 
Lebanon
.
"The Israeli occupation should remain on alert because rallies will not stop until Palestinian refugees return to … all occupied Palestinian towns," said the statement, issued to the Palestinian news agency Ma'an.
The largely peaceful protests last weekend were met with live and rubber-coated bullets, teargas and stun grenades fired by Israeli troops. Israel said it was a legitimate response to a threat to its sovereignty.
As the prospects for peace talks recede further, some observers predict support for protests will swell as Palestinians take inspiration from the uprisings that have swept the region since the start of the year.
Some forecast a "third intifada" as frustration mounts. Rising expectations of international backing for the establishment of a Palestinian state in September could contribute to a mood of revolt if such support either fails to materialise or has little impact on the ground.
The Israeli defence establishment is taking seriously the possibility of widespread 
protest
along its borders and within the 
Palestinian territories
. It is reviewing its response to unarmed demonstrators, conscious that international public opinion has not favoured the violent suppression of protests in the region over recent months.
A second challenge to the Israeli military will follow towards the end of next month when a pro-Palestinian flotilla of up to 15 ships is expected to attempt to breach Israel's sea blockade of Gaza. The flotilla is due to set sail in the last week of June, just over a year after Israeli troops killed nine pro-Palestinian Turkish activists 
on board the Mavi Marmara
.
The Turkish foreign minister, Ahmet Davutoglu, warned Israel on Saturday "not to repeat the human tragedy it caused last year". He added: "It should be known that Turkey will give the necessary response to any repeated act of provocation by Israel on the high seas."
Relations between Israel and Turkey were severely strained after last year's bloody assault to stop the flotilla. Last week Davutoglu rebuffed an Israeli appeal to Turkey to prevent activists taking part in this year's flotilla.